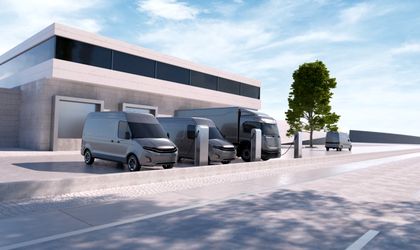 Stuttgart/Hannover, Germany – From climate action and cost pressure to driver shortages, the global transportation and logistics industry is facing enormous challenges. Bosch delivers appropriate solutions to meet these challenges.
As it moves toward the goal of climate-neutral freight transport, the technology company is steadily expanding its powertrain portfolio. In addition to diesel powertrains, which will continue to play a vital role in commercial vehicles for some time to come, Bosch also offers battery-electric and fuel-cell powertrains. The company has now incorporated another option, the hydrogen engine, to fill the gap in alternative powertrains, particularly for heavy construction vehicles and agricultural machinery.
"Climate action is moving freight transport in more diverse directions. We expect alternative powertrains to drive major growth in our business over the course of the decade," said Dr. Markus Heyn, member of the Bosch board of management and chairman of the Mobility Solutions business sector, at this year's IAA Transportation in Hannover.
In a world full of uncertainties, sales in Bosch's Mobility Solutions business sector have grown by 6 percent so far this year after adjusting for exchange-rate effects. Bosch generates one-fourth of its sales revenue from commercial-vehicle technology, ranging from vans to 40-ton trucks. In addition to powertrains, the other pillars of Bosch's commercial-vehicle business are driver assistance systems and connectivity.
"Climate action is moving freight transport in more diverse directions. We expect alternative powertrains to drive major growth in our business over the course of the decade", says Dr. Markus Heyn, member of the Bosch board of management and chairman of the Mobility Solutions business sector.
Bosch is bringing new energy to commercial-vehicle powertrains
According to Bosch forecasts, over 80 percent of all trucks weighing six metric tons or more will still be diesel-powered in 2025. Powertrain diversity will subsequently increase and, by 2035, half of all new commercial vehicles will be electric, powered either by battery or hydrogen.
"A technology-neutral approach is particularly useful in commercial vehicles. Depending on the application, there will be more than one climate-neutral option for the truck powertrain," Heyn said.
At Bosch, 3,400 engineers alone are working on the truck powertrain of the future. No other company offers as many electromobility options as Bosch: from e-bikes to construction machinery, and from silicon carbide chips to complete drive modules. This strategy is paying off: Bosch already has 30 major orders from manufacturers for battery-electric powertrains. Bosch also has big plans for the fuel cell. By 2025, the company aims to have over 40,000 Bosch fuel-cell systems on the road. To support this goal, Bosch also manufactures the stacks itself and is establishing global production capabilities close to its customers, specifically at its plants in Anderson (USA), Wuxi (China), and Bamberg (Germany). Fuel cells are not the only way to power trucks using hydrogen; there are also H2 engines. Bosch develops the control units and injection technology required for these engines and has already acquired a major project in India.
Bosch is teaching trucks to drive
Bosch is in its element not only in hardware, but also in software. Half the R&D associates in the Mobility Solutions business sector are software engineers. Among other things, this promotes the development of automated driving. Bosch has 1,100 engineers working on this topic, and it supplies software, sensors, vehicle computers, and actuators from a single source.
"Automated driving is coming, due in part to the acute driver shortage. And nowhere does automated driving make more economic sense than in commercial vehicles," Heyn said.
Across Europe, there is already a shortage of 400,000 drivers. Bosch aims to implement driverless operation on freeways by the end of the decade. In 2025, a vehicle computer that enables sensor data to be processed in real time will go into large-scale production at a European truck manufacturer. Bosch technology will make the electronics architecture in future commercial vehicles significantly more powerful, thereby delivering the basis for the software-defined truck. On the road toward automated driving, the company is doing good business with driver assistance systems. Best example: corner radar sensor in trucks. This market will grow by 40 percent over the next few years, Bosch by almost 60 percent. The company's efforts here are driven by various factors, including the legal requirements for preventing road accidents with commercial vehicles. For example, the turn assistant function will be a mandatory feature in Europe from 2024.
Bosch prepares to launch logistics platform
In its work on the future of freight transport, Bosch is also looking beyond the hood. Bosch has joined forces with U.S.-based cloud provider Amazon Web Services (AWS) to operate a software platform that bundles not only its own logistics services but also third-party services. Integrating these solutions delivers a boost in efficiency. Instead of using the multitude of independent solutions currently on offer, logistics companies and freight forwarders across the globe will have quick and easy access to digital services from a single source.
"We will be launching our logistics platform in India within the next few weeks and then in Europe and the U.S. at the beginning of next year," Heyn said.
One example of Bosch services for the transportation and logistics industry is logistics monitoring. Bosch service centers monitor the condition of critical or even medically vital goods – between 30,000 and 40,000 truckloads annually. During the coronavirus pandemic, Bosch also took on the monitoring of vaccine shipments. There is also high demand for secure truck parking, a service that can be used to reserve truck parking spaces. Bosch already offers 100 suitable areas along the highways in eleven European countries. Bookings tripled in 2021 alone. Bosch is also expanding its service portfolio to include a retrofit solution for the keyless access system for commercial vehicles, which will be launched in 2023.
BOSCH AT IAA TRANSPORTATION 2022
Panels with Bosch experts at the IAA Conference:
Tuesday, September 20, 14:15 – 15:15 CEST in the Industry Forum:
Presentation: "How to manage the operational challenges of multi-brand commercial EV fleets" by Michael Köhler, Senior Vice President Business Unit Battery at Robert Bosch GmbH
Tuesday, September 20, 17:30 – 17:45 CEST on the Main Stage:
Keynote: "Powertrain solutions for future transportation" by Jürgen Häusser, Vice President Product Management Commercial Vehicle & Off-Road at Robert Bosch GmbH
Wednesday, September 21, 17:00 – 19:00 CEST at the Cummins booth (hall 20, booth A12):
"Open dialog on the hydrogen engine" with Dr. Andreas Kufferath, Engineering System Diesel Powertrain at Robert Bosch GmbH
Thursday, September 22, 11:30 – 12:00 CEST on the Main Stage:
Presentation: "Global digitization in logistics" by Mariella Minutolo, Executive VP Progressive Mobility Players at Robert Bosch GmbH