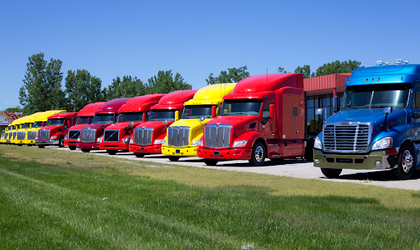 It is excellent that you want to start your own trucking business but financing your truck may seem at first to be a tricky proposition. It might be almost impossible considering your limited finances, but it's easier than your perception. People with all kinds of credit records and ambitions can start their trucking business. You might want to have your fleet or be an owner and an operator for your business. Regardless there are financing options that are open to you. Another thing to mention is that there has been no better time to start a trucking business than today, especially for owner-operators.
Owning a Truck With Zero Down Payment
There are plenty of truckers who dream of having their own trucking business but can't as they don't have several thousands of dollars that a truck costs. You can still get your dream above ground by opting for zero down payment financing options. While buying vehicles meant for personal use, owners can choose from two available options: buying them or getting them for lease purchase. In commercial trucks, the situation is somewhat similar but with the use of different terminology- capital leases and operating leases. Owners with little savings will usually find operating leases to be more attractive for their purposes. You can get leases and loans as well for zero down payment. However, the approval of such loans is subject to you meeting a specific set of criteria.
Owning a Truck Despite Bad Credit
Even individuals or businesses with bad credit scores can get financing for their commercial trucks. The only drawback is that the whole proposition is likely to be a more expensive one. Additionally, you will have to work harder to find a bank or any other type of lender who would agree to finance your truck through a loan. Owner-operators with bad credit are less attractive as borrowers from the point of view of the bank. This will make your funding options less, but it is still very much possible. Suppose you are looking for financing from the leading financial institutions while having bad credit. In that case, that is not exactly a great idea. However, you can turn to lenders who specialize in financing commercial trucks for other truckers with bad credit as well.
Fair Credit Financing Options
Suppose you have a fair credit score either as a business or as an individual. In that case, you can make use of a wider variety of financing options that an entity with bad credit might use. Though it's not as good as excellent credit, it beats terrible credit scores. Operators with some records and operating history and a credit score of about 650 will find a decent number of financing options open to them. Interest rates are also going to be more attractive than someone with a credit score below 500. However, most probably, the leading financiers still won't finance your truck. But it will indeed help you not to choose unknown companies as your financier. Entities with fair credit are likely to find semi-truck financing firms to be the best option open to them. Such borrowers are free to choose from a capital lease or a truck loan. It is helpful to remember that capital leases stand apart from operational leases, helping you know the difference.
To sum things up, commercial trucking is one of the strongest pillars of the American economy. Even small businesses often need the services of one or more commercial trucks. This, coupled with the fact that the industry has an estimated shortage of 60,000 drivers, makes owning a truck an excellent business option. Here's hoping for the best for your new business.