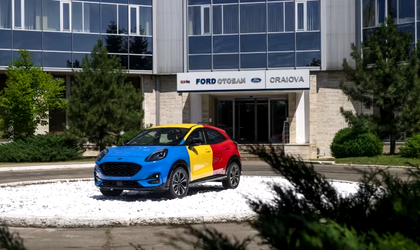 The agreement whereby Ford Otosan, Europe's largest commercial vehicle manufacturer, takes ownership of Ford's Craiova plant has been successfully completed. With this agreement, Ford has transferred ownership of its Craiova plant, which produces vehicles and engines, to Ford Otosan, allowing the company to expand its operations internationally.
This year, on 14 March, Ford announced that the Craiova plant will produce the new generation of the Courier model, both the Transit (freight) and Tourneo (passenger) variants, which will enter production in 2023, with an all-electric version from 2024. The Ford Puma, Ford's best-selling passenger car in Europe, will also benefit from a fully electric version in 2024, to be produced at the Romanian plant.
To support the launch of the next generation Courier, Ford Otosan today announces an EUR 490 million investment at its Craiova plant, to be implemented over the next three years. This will increase the total production capacity of the Craiova plant from 250,000 vehicles/year to 272,000 vehicles/year.
Ford Otosan's Craiova plant plays a key role in Ford's electrification plans in Europe, and with this acquisition, the Romanian plant will benefit from Ford Otosan's extensive experience and expertise in electrification, commercial vehicle design, engineering and manufacturing. Ford Otosan's expertise and know-how in electrification, as seen in the recently launched flagship E-Transit model, will also be reflected in the electric vehicles that the company will produce in its Craiova plant.
Ford also announces today that, in the context of the transfer of ownership in Craiova, a new company – Ford Romania Services SRL – has been created to integrate the sales and marketing activities of Ford in Romania (National Sales Company), headed by Roxana Capătă and Ford Business Solutions Center (FBS), headed by Dieter Rogmann. In addition, some additional European functions, such as Purchasing and Accounting Services, which operate from Craiova, will operate within Ford Romania Services.