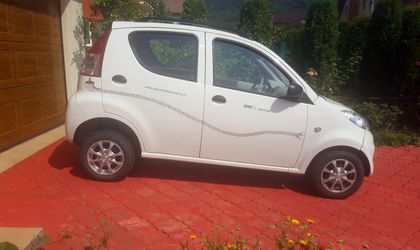 A group of entrepreneurs from Baia Mare are working on the first electric vehicles that are "Made in Romania", with cars having a starting price of EUR 13,700.
The entrepreneurs have started with the production plans for two models – a 2-seat model called GTG Oxygen and a 4-seat car called GTG Ozone.
The manager of the company, Gheorghe Muresan, said he was inspired by American Tesla founder Elon Musk in his business endeavor.
The initial plan is to have 10 cars per day and 200 per month. The annual output could stand at 3,000 to 4,000 units.
"We will start with smaller quantities," Muresan told BR.
The production hall will cover 2,600 square meters and should become operational in February 2019. "We are also planning to have a testing track for the cars," he said.
"We attempted with minimal resources, under Romanian market conditions, to build a business idea in this field," added the entrepreneur.
The entrepreneur said the project is in the implementation stage and is worth EUR 1.6 million. The EU grant totals EUR 1 million.
The cars have a maximum speed of 55 – 60 km/h and an autonomy for one day.
One prototype produced in Baia Mare has been used by the manager of the company for the last two years. He covered some 8,000 km in urban areas. A second car has been tested by Muresan's associate in the business, Andi Ostroveanu.