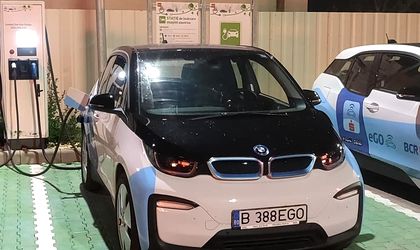 Timisoara becomes the third city in Romania after Bucharest and Constanta to have the electric car sharing service eGO, the first 100 percent electric car sharing service in Romania, launched in 2017 in partnership with Romanian Commercial Bank (BCR), with the fleet being made up of 10 BMW i3 cars.
The service is accessible through a dedicated application, which allows locating and booking cars, while the key of the car is replaced exclusively by the contactless bank card, regardless of the issuing bank.
"Timişoara is the third city in which eGO is launched, offering the inhabitants an option of environmentally friendly transport, which contributes to the reduction of urban agglomeration and offers users an important benefit: you pay as long as you actually use the car. In addition, you have a car with an innovative style and design whenever you need it, without taking care of any additional expenses incurred by a car in your personal property, such as maintenance costs, insurance, taxes or parking. EGO users are people with an active lifestyle, who make smart decisions in terms of monthly expenses and want to contribute to a less polluted city and future," said Radu Papuc, Managing Partner of eGO.

"eGO is the service through which BCR aims to contribute to improving the urban mobility in Romania, giving the inhabitants of the big cities access to efficient, quality and environmentally friendly transport services. Timişoara is one of the big urban centers of Romania where BCR has been carrying out for many years financial education, infrastructure and technology projects designed to support the local community. By launching this 100 percent electric car-sharing service in Timisoara, BCR has set out to meet the expectations of Timisoara, who want viable solutions to reduce pollution and agglomeration in the city," said Anca Flueras, BCR Retail Area Manager.
In order to benefit from the BCR eGO service, users in Timisoara must meet the following conditions: hold a debit or contactless credit card, regardless of which bank is the issuer, and install the BCR eGO application, available to both Android and iOS users .
The service is designed for both clients and individuals, as well as for companies wishing to offer employees a modern urban mobility service. In the BCR eGO application, users will be able to locate and reserve the car closest to their location. They will also be able to see the degree of charge of each electric vehicle and, especially, where they can find charging stations.
Users can pick up and drop their cars at any point in Timisoara. Customers who will leave their cars connected to one of the charging stations available will benefit from additional bonuses. The tariff plans for the use of the BCR eGO service can be consulted through the application or on the official website, www.bcr-ego.ro, and these will vary depending on the choice of predefined packages (retail, corporate). BCR retail customers who have registered a George card in the application, but also all the customers of the application that have been validated until July 22, 2019, benefit from subsidized rates: 15 lei 'starting' (fixed cost per race), plus 20 lei for every 30 minutes.