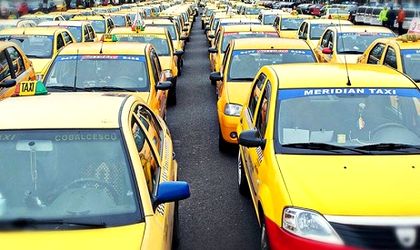 Bucharest Mayor Gabriela Firea said today that taxi drivers will be subject to "drastic measures" taken by the City Hall and the Transport Ministry. Taxis will be lined  up at the North Rail Station, at the airport and in the Old Town area, and that passengers will have to queue up and collect a numbered ticket indicating the order of the cars.
Firea added that she has discussed this topic with Transport minister Lucian Sova, who said that he supports this projects as there are still taxi drivers who refuse to take some passengers and negotiate prices for rides.
"Like in any civilized country, any passenger will collect a numbered ticket from a machine and take the first available taxi. The taxis will be lined up in front of the institution, whether it's the North Railway Station, the airport or the Old Town. Only non-polluting, well-maintained and clean taxis will be able to enter these areas, with drivers who are civilized, well-dressed and have an appropriate behaviour, without any unpleasant smells or music and so on," said Mayor Firea in a press conference.
She said that there are still taxi drivers who negotiate the price of rides and refuse to take on passengers, despite the behavioural code adopted recently by the General Council of Bucharest .
"We can't go on like this, there are too many complaints, both from Bucharest citizens and tourists, saying there are still taxi drivers who don't follow the rules we established and ruin the city's image. (…) I honestly believed that if we voted on a rulebook for taxis in the General Council it will be followed, especially since there are fines involved, but I see that some people are not scared of anything. We have horrifying reports from the Local Police," Firea added.
According to the rules passed by the Council, taxi companies must allow card payments in all cars and drivers will be fined RON 500 if they refuse to make a trip. Taxi drivers cannot decline to transport individuals with disabilities, can only be stationed in special areas and never in RATB bus stops, are not allowed to smoke in the car or use mobile devices during trips, and have to play the music preferred by the clients.