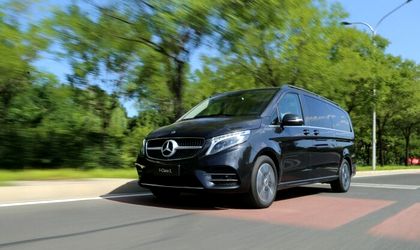 Business Review talked to the people behind the Mercedes-Benz V-Class, in order to find out more about its latest upgrade, versatility, and what makes it an ideal travelling option for both individual drivers and businesses.
What are the advantages of owning an MPV such as Mercedes-Benz V-Class and what makes it the ideal travelling option?
The variable space of the interior, the intelligent assistance and safety systems as well as the multimedia "zero-layer" MBUX system. The V-Class is adaptable to most passenger and driver needs, being an excellent vehicle for both business and leisure time.
Who is the usual V-Class owner?
Families with two or more children are part of our audience, however active adults, providers of VIP transportation of shuttle services and entrepreneurs form a big part of our audience.
What makes the V-Class so popular for both individual drivers and businesses?
It's versatility. The V-Class can accommodate up to 8 passengers while also reflecting the elegance and comfort you usually associate Mercedes-Benz with.
.
In terms of sustainability, being able to comfort up to 8 people, is the V-Class an option for reducing traffic and carbon emissions, by being used for carpooling?
The business segment is a strong part of our audience because the V-Class allows for employees/partners to travel together. Mercedes-Benz Vans has also launched its EQV model, the 100% electric version of the V-Class with 0 emissions.
The V-Class MPV received several face lifts and upgrades over the years. What can you tell us about this progress and also about the latest generation in terms of innovation and technology?
The key elements of the current V-Class (as opposed to the previous model) are a new, distinctive design of the front grill, the introduction of a new generation of engines and the 9G-TRONIC automatic transmission.