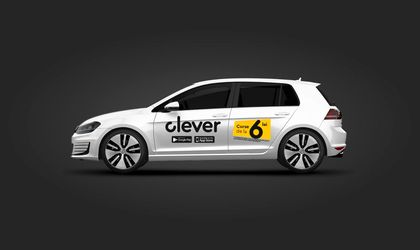 Clever has announced the expansion of its CleverGo alternative transport service to two new major cities in Romania, in addition to the taxi services already offered through the app. The service is available from Monday in Cluj and Iasi, less than a year after it was launched in Bucharest and Timisoara.
Passengers from Cluj and Iasi now have access to the only platform in Romania that integrates the taxi and alternative transport options, and also benefit from a 50 percent discount for card payments. Partner drivers actively using the CleverGO service in Cluj and Iasi will have zero fees and numerous bonuses, allowing them to reach net incomes of up to RON 8,000/month.
"In Cluj and Iasi we've seen an accelerated growth of demand for mobility in relation to the capacity of current transport services. CleverGO is complementary to the taxi service, its launch in Bucharest having generated a reduction in waiting times for passengers, an increase of 32 percent in the number of average orders per driver and monthly earnings higher by RON 700/month for them. We will continue to invest massively in the development and modernization of the urban transport industry, in order to provide quality services at the best price," says Andrei Frunza, the CEO of Clever.
CleverGO applies a fixed fare per kilometer, regardless of the time of day, traffic conditions or the demand and supply of cars at any given time, providing users with control and predictability in terms of costs. The service operates on the principle of proximity, as the main criterion for assigning an order is the distance between the order and the driver. The app also takes into account other elements such as driver rating and customers' payment preferences.
The Clever platform collaborates only with drivers who are authorized for taxi or alternative transport activities, currently having over 30,000 registered drivers nationally, who provide urban mobility services for more than 1.5 million users.