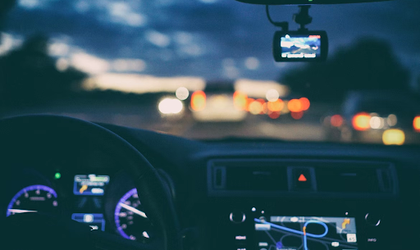 Are you a vehicle owner wondering what all the fuss is about GPS Dashcam technology and why it's becoming so popular? If so, you've come to the right place! In this blog post, we will guide you through the basics of GPS Dashcam technology and provide tips on how to get started with its use. Whether it be for navigation or as an extra layer of security, a dash cam can be a great addition to any driver's toolkit—and having one installed can open up additional safety benefits. 
What Is GPS Dashcam Technology, and How Does It Work?
GPS dashcam technology is truly revolutionary and incredibly beneficial. Acting as a combination of two devices, this system has implications that go far beyond the initial idea of recording your drive to support insurance claims or provide evidence in court. By combining a regular dashcam with GPS features and constant internet connectivity, you can now access real-time data from your vehicle as to its exact location and current condition. This allows for advanced tracking and diagnostics to assist with safe driving, such as driver fatigue alerts, speed warnings, and one-touch emergency services integration for immediate assistance should an incident occur. All this customer-friendly innovation makes the use of GPS dashcam technology invaluable in the modern connected world.
The Benefits of Using a GPS Dashcam
Motorists who are on the road for long hours, such as those in the trucking industry, truly appreciate the many benefits of using a GPS dashcam. This technology allows them to view real-time tracking of their vehicles, monitor driver behavior, plan for smarter routes, and even save money with better fuel efficiency. For businesses managing fleets, the features and benefits of truck GPS dashcams provide enhanced insight into drive routes and reduce costly vehicle damage as well as boost material handling productivity. On top of that, its driver behavior monitoring feature helps to ensure compliance with safety regulations and reduces liability insurance costs. When it comes to safety on the road and increased cost savings in long-term operating expenses, there's no denying that a GPS dashcam is a must-have for any fleet manager.
Main Features to Look Out For When Shopping Around for a GPS Dashcam
When shopping around for a GPS dashcam, there are lots of features to consider. Look for devices with a fully-integrated GPS system that provides real-time tracking. Additionally, check to make sure the resolution is adequate—many cameras come with Full HD video recording at 30 frames per second or more. If you frequently drive in low-light environments, opt for a device that is equipped with night vision. Audio recording can also be an important feature—some dashcams will record sound inside and outside the car simultaneously. Finally, consider your budget and research companies that offer warranties on their products; they should be able to replace defective units if something goes wrong. Keep these features in mind when searching around, and you'll be sure to find the best GPS dashcam!
Best Practices for Installing and Setting Up Your GPS Dashcam
When it comes to installing and setting up your GPS Dashcam, preparation is key. Before beginning the process, determine your camera's specific make and model, obtain all necessary mounting hardware, such as suction cups or screws, and read the manual for detailed instructions. Be sure to charge the camera fully before installation, and if applicable, plug in a power adapter. Once all requirements have been met, use adhesive (or screws) to mount the camera on your windshield, ensuring it is securely attached with a clear line of sight Capture Mode. You must adjust the camera angle for maximum field visibility. Finally, take time to properly secure all wiring connections before powering on your camera; doing this will help conveniently hide excess cable away from view while looking neat and organized. Setting up a GPS Dashcam can be simple when following best practices immediately!
After having gone through the basics of GPS dashcam technology, its benefits and features as well as installation tips and taking care of your device in this blog post, we hope that you will be better equipped to make an informed choice while making your purchase. Whether you are looking for a basic model or a more advanced one with all the bells and whistles, it is important to understand what precisely it is that you need and want from your device. It is best to consider your budget range, features you cannot do without as well as technical limitations that may apply in order to narrow down the available models out there. So go ahead and explore the options with newfound expert knowledge!