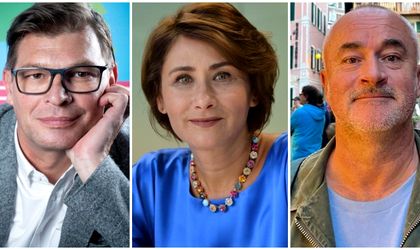 Exactly 30 years ago, on March 29, 1993, the foundations were laid for what Austral Trade is today, an important player in the top 3 of the office and stationery market. The company's Romanian founders, George Anghel and Andrei Iurov, together with co-founder Ileana Anghel, developed the business from scratch and now own the Austral Group, which includes two companies. They total approximately 200 employees and have a turnover of over 120 million lei recorded in 2022.
The founders state that the company's development in these years was based on flexibility and openness to customers' needs, first of all. The company moved from the status of a simple supplier of office and stationery products to that of an integrator of office solutions. The product portfolio has constantly expanded, offering IT&C products, cleaning and labor protection products, corporate gifts, Cloud solutions, flower or fruit delivery services to the office, and other customized solutions.
This ability to adapt to market needs has transformed Austral Trade into a One-Stop-Shop supplier that promises to provide its customers with everything they need to run their business in the office and beyond.
"In recent years, constrained by technological developments, but also by the impact of global events, such as the 2020-2022 pandemic, we have practically changed the business paradigm. We no longer offer customers only products from our catalogue, but we try to adapt our offer to their needs. Therefore, the range of classic stationery products we started the business with gradually decreased our turnover's share, up to around 70%", says George Anghel, founder and CEO of Austral.
The focus on customer needs was the premise from which the company was born.
"In the early years, we started from a need observed in the market among students and teachers, who did not have where to buy supplies. I looked up what they needed and delivered it to where they needed it. Austral is doing the same thing now but on a completely different level. At that time, the fear was that we would have nothing left to sell, as importers were very few and did not have well-developed ranges. At that point, we decided to import ourselves, and we went by coach to a stationery event in Frankfurt in January 1994. We returned with serious suppliers and we brought big names to Romania, some of them being with us even today." Declares Andrei Iurov, one of the founders of Austral.
Going through the challenges of the market, the 30 years in numbers would translate to 67,000 customers who trusted Austral, with more than 1.75 million orders and more than 166 million products delivered. The last year was completed with 99% of deliveries made within 48 hours, of which 84% were delivered in less than 24 hours, thanks to our warehouse that allows for consistent stocks. All this with only 0.67% of non-conformities in the processing of orders and with customers who appreciate both the relationship with the Austral team and the quality of the products.
"I am most happy to see after these 30 years that there is an enthusiastic team, that people are friends and develop quality relationships with Austral's customers or partners. What also seems very important to me is that one of our values was to bring to the market pens that write, paper that is at 80g/m2 quality level, and quality staplers that actually staple. In the 90s you could sell anything, but the market was full of products of questionable quality. We chose to bring good quality products right from the start. I, who used to write a lot and still love to write, am still sensitive to Schneider rollerballs and Clairefontaine notebooks", says Ileana Anghel, co-founder of Austral Trade.
The Austral Trade company continues to develop by constantly adapting its offer and distribution channels to the needs of its customers and to objective market conditions.
Here is the Austral Trade timeline in these first 30 years:
1993 – the first office in Bucharest, the first invoice
1995 – first large delivery van
1996 – Austral becomes the sole Schneider importer in Romania
1999 – the first Austral catalogue is printed
2003 – Austral obtains ISO 9001 Certification
2005 – the Austral ERP integrated electronic management system is adopted
2006 – Austral becomes a concentrated exclusive B2B distributor
2010 – Austral obtains the ISO 14001 and OHSAS 18001 certifications; Papetarie.ro B2C project is launched
2012 – Austral is in the top 3 office and stationery companies, with a turnover of 9.7 million euros
2016 – a new B2B website with special functionalities is developed mainly for large clients
2017 – the printed catalogue is replaced by the first version of the interactive online catalogue
2018 – new services are launched in the Austral portfolio: flower delivery, Cloud solutions, and e-commerce solutions
2019 – the first #FiiVerde brochure with eco-friendly products is launched
2021 – 70% of orders are automated
2022 – the Austral Trade group of companies exceeds 21 million euros turnover
2023 – Austral celebrates 30 years of existence on the Romanian market