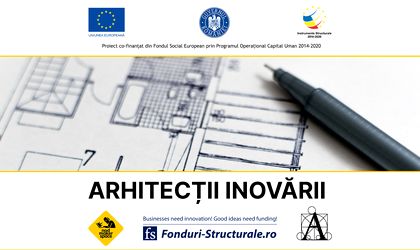 Students, master's degree students and doctoral candidates from architecture, urbanism, design, construction, mathematics, informatics have a unique opportunity for entrepreneurial development, specially tailored to them. The business accelerator "Arhitecții Inovării" (Architects of Innovation), launched at the beginning of 2022, offers to those interested in starting the journey to entrepreneurship business knowhow, support and grant to start the business.
Conducted by Nod Makerspace, fonduri-structurale.ro and the Ion Mincu University of Architecture and Urbanism, "Arhitecții Inovării" has begun the registrations for the first significant stage of the project: the entrepreneurial forming courses.
Over 340 students are being excepted to join the project. As a result of the selection, they can participate in the free entrepreneurial courses, from February – to April 2022, delivered online and certified at a national level.
The course is tailored to ensure the familiarity of the young students with the entrepreneurial medium and to support them with theoretical notions and practical application under the supervision of the facilitators to understand the main concepts regarding starting and running a business. They will also learn how to set their ideas into a business plan.
After finishing the courses, a business plan competition will be organized, through which 26 businesses will be selected, and the students that proposed them will benefit from mentoring, counselling and supplementary support activities, and even a grant of 60.000 euros to start the business.
Conditions to participate in the "Arhitecții Inovării":
Registered in a superior learning institute (at least second year at bachelor studies) in architecture, design, urban planning, construction, mathematics, physics, informatics.
They wish to start a business in the less developed regions of Romania (South Muntenia, Soth West Oltenia, West, Center, North East, North West, South East).
They have a business idea that targets economic sectors with competitive potential, focusing on the cultural-creative industries and professional activities.
They did not take another "Competențe Antreprenoriale" course financed by grants.
For more information about the program, students can access: