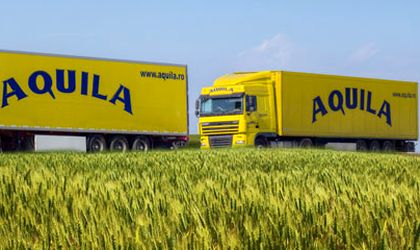 AQUILA (symbol AQ), the market leader in the field of integrated distribution and logistics services for consumer goods, in Romania and the Republic of Moldova, with almost 30 years of experience in this industry, has budgeted investments of Euro 12.7 million for the current year.
From this amount, AQUILA has set a cumulative ceiling of Euro 9 million for the conclusion of leasing financing contracts for warehouse and automation equipment (worth Euro 1.4 million) and means of transport (worth Euro 7.6 million). The Ordinary General Meeting of Shareholders approved the budget on April 28th, 2023.
Cătălin Vasile, CEO of AQUILA:
"We have made a firm commitment to reduce the impact on the environment by renewing the fleet, optimizing the transportation routes, streamlining the logistics operations, organizing defensive driving courses for employees, as well as by using alternative energy sources. The planned investments follow the company's sustainability strategy, through which we aim to reduce greenhouse gas emissions by 10% until 2026, with 2021 as a reference."
AQUILA's fleet has over 1,600 vehicles in total, a considerable part being dedicated to the transport of goods from all temperature categories (ambient, refrigerated, frozen), operating nationally and internationally in over 20 countries in the EU, Switzerland, and the UK, etc.
Currently, 70% of the AQUILA fleet is equipped with Euro 6 engines, and the company has set an objective to gradually replace cars equipped with gasoline and diesel engines with cars equipped with alternatively powered engines, on LPG or Hybrid.
For 2023, the Extraordinary General Meeting of Shareholders has decided to approve the conclusion of leasing financing contracts for investments, within a total cumulative ceiling of Euro 9 million. For the means of transport, the contracts will have a maximum duration of 60 months, a maximum Euribor interest rate of +3.5%, and a maximum advance payment of 15%.