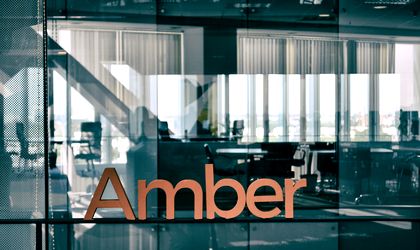 Amber, the largest Romanian independent game development studio, posts a record turnover of 30.5 million USD (126.8 million lei) in 2021, a 56% increase year on year.
"2021 has been an excellent year for Amber, a year when we saw massive growth in the sales pipeline, driven by the investments carried out over the last few years in strengthening our development teams and our sales organization. We have outperformed our revenue estimates for 2021 by 10% and closed the year with the highest turnover ever recorded by an independent gaming studio in Romania. Access to key talent is essential for Amber and we believe we are uniquely positioned to take advantage of the latest industry trends and leverage talent pools in emerging markets. We expect our growth to accelerate in 2022 to match the growing demand for Amber's services," said Jaime Giné, CEO of Amber.
Out of 126.8 million lei in turnover generated in 2021, approximately 70% were revenues from R&D activity of game development. The remaining 30% were from development support services, including quality assurance, customer support, and localization. In line with the results reported at half-year, Amber's entire turnover was brought by foreign entities, primarily US-based. The company partners with brands such as Amazon, Disney, NBC Universal, Paradox Interactive, Rovio, That Game Company, N3twork, and more.
In 2021, Amber developers worked on the full production of more than ten mobile, PC, and console games. One of the titles was the very successful Tetris Beat, published by N3TWORK and developed by Amber. Moreover, in 2021, Amber entered the emerging blockchain gaming sector and quickly became one of the global leaders in this area. Blockchain games include elements that use cryptography-based blockchain technologies. Blockchain elements in these games are most often based on cryptocurrency or non-fungible tokens (NFTs) that players can buy, sell, or trade with other players.
For 2022, Amber expects to maintain its accelerated growth rate. As of May 1st, 2022, Amber has over 1,000 employees based in offices located in Bucharest, Botoșani, Guadalajara, Montreal, Kyiv, San Francisco and Los Angeles. The company plans to reach over 1,100 staff as it continues its geographical expansion.
In February 2022, Amber decided to support their Ukrainian team by announcing the launch of the new studio in Kyiv. Since then, Amber has taken all possible measures to ensure the safety of its staff, as a top priority. The studio remains open and Amber is working on further expansion plans in other territories as well, which will be announced in the coming months.
The expansion will be carried out organically by setting up new subsidiaries or through M&As. The purpose of the expansion, apart from reaching new geographies, is to grow the talent pool as well as expand the services offering and game genre specializations.