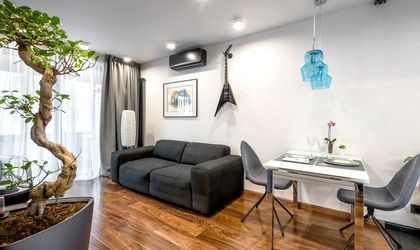 Romanians are very strict when it comes to home cleaning. 35.3 percent of them clean throughout the house once a week, while 32.1 percent say they keep cleaning in the home constantly and do not have a certain day of the week dedicated to cleanliness. This is the result of a study conducted by Ajusto.ro on a sample of 400 people.
In terms of seasonal cleaning, 48.7 percent of Romanians also take into consideration the option of renovating of the entire dwelling or just a room. On the opposite side, 27.4 percent of Romanians would consider this option only if they were absolutely necessary, and 23.9 percent did not even think about it. For them seasonal cleanliness involves strictly changing the wardrobe in the closet and intensive cleaning of the dwelling.
On a top of the rooms in the house, to which Romanians attach great importance to the process of cleaning, there are:
Kitchen – 77.1 percent;
Bathroom – 58.4 percent;
Bedroom – 37.3 percent;
Living – 33.7 percent.
When it comes to the time spent in each room in the house, 40.8 percent of respondents put the kitchen on the first place because there is the place where the favorite recipes are cooked and dine with their loved ones. 30.3 percent of Romanians consider the bedroom to be the preferred place for relaxation and rest, while 28.9 percent prefer the living, this being the place where they spend time during the day in the company of family or friends.
Although Romanians are taking care of the cleanliness of their home and know exactly which rooms they need to pay more attention to, they would prefer to use a professional service to thoroughly clean up:
The kitchen, which includes especially the cleaning of electronics, appliances, furniture, tiles, faience, etc. – 57.1 percent;
Living room, including sofa, armchairs, carpet, furniture etc – 35.3 percent;
Bathrooms – sanitary ware, ceramic wall and floor tiles – 22.1 percent;
Bedroom – cleaning of bed mattress, carpet, curtains etc. – 18.2 percent.
Professional service should be cheap
Although they would call a professional cleaning service for a home with a size of up to 65 sqm, 46.6 percent of Romanians would not pay more than RON 200-300. 29.2 percent claim that a decent cost would be below RON 200 for such an area, and 19.2 percent are willing to pay between RON 300-400.
Google searches, friends / knowledge recommendations and social media networks are among the top Romanian preferences when looking for cleaners.
Romanians were also interested in using the sofas and / or armchairs cleaning services (55.8 percent), cleaning services for carpets (52.4 percent), cleaning services for interior designers (57.1 percent), installation and sanitation services of air conditioners (37.1 percent) and cleaning of mattresses (36.1 percent).
However, 66.1 percent of respondents said they did not set aside a budget for repairs, but adapted to the situation when it appeared, while 24.2 percent attempted to put aside money for unpredictable repairs, although they failed to do so this constantly. Only 9.7 percent of Romanians have a separate budget for cleaning services, installation repairs, electrical / household appliances, etc.
Recognized in the past for the status of handy men, now when they have something to repair at home, 39.5 percent of Romanians prefer to call the plumber with whom they have worked in the past, while 15.3 percent call a specialized firm. However, 25.8 percent of respondents still prefer to call someone in the family who is good, even if he has no skills in the field, or 13.3 percent are still self-repairing.
Ajusto.ro is an online platform that provides solutions for most of the work you need in your home. A home repair or redecoration always starts with looking for a craftsman, with recommendations from people you need to trust. The same happens when you want to change a radiator, adjust an insulator, etc. It's a long way and often hard to get to the end: finding a good craftsman to do his job, not to punch, to leave with the materials you pay or not to disappear after he has done it, you paid the advance. It's a reality that we've all just faced once.