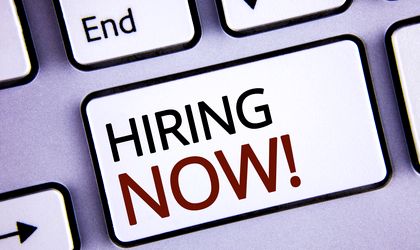 The small and medium enterprises sector started to hire more people this year. Since the start of 2019 until today, over 87,000 jobs has been posted on eJobs.ro from SME's, up 60 percent compared to the same period of last year (January – August). In total, nearly 12,500 SMEs have posted at least one job ad on the eJobs.ro online recruitment platform in the first seven months of the year.
Most jobs were posted by companies operating in the field of sales (2,115), followed by Human Resources (2,100 jobs) and Banks (1,932). Next in the top of the most active SMEs, in terms of employment, are the companies in the Procurement sector, those in the Food / HoReCa and Transport / Distribution sectors.
On the other side of the ranking, with less than 200 jobs available from the beginning of the year until August, there are companies with activities in Services and Repairs, those in Farma, Oil and Gas and Insurance.
"Small and medium-sized companies have had a year of impressive growth and have gone out to "hunt" candidates, offering, in many cases, conditions similar to large multinational players. We speak here not only of salary packages and extra-wage benefits, but also of prospects for development, flexibility and the promise of attractive projects. For all these reasons, candidates are also quite attracted to the jobs of such companies, especially the young and very young, who are looking for experiences that will develop them rather than high salaries", says Bogdan Badea, CEO of eJobs Romania.
Currently, in Romania there are over 600,000 small and medium-sized enterprises, which accumulate more than half of the total number of employees on the market. The average net salary earned by an employee working in an SME is about EUR 700 per month.