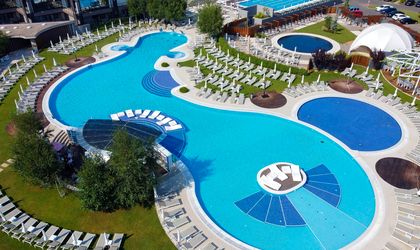 Alesonor, the developer of the first complete suburb – Amber Forest, signs a partnership with Pescariu Sports&Spa, company that has been offering a wide range of leisure and sports facilities since 2001, to develop the sports center and leisure areas within the project.
In order to provide the members of the community and all customers of the suburb with high quality facilities and services designed for a modern lifestyle, Alesonor has entered into a partnership with the Pescariu Sports&Spa company for the development of a sports and leisure club covering a ​​12,000 sqm area. The new leisure zone will include 3 outdoor tennis courts, 2 paddel courts, an outdoor leisure swimming pool and a 2,000 sqm building that will house a semi-Olympic swimming pool, a spa center and a fitness club.
"We chose the Pescariu Sports&Spa team for the added value it will bring to our project thanks to its experience on the market of relaxation and sports services for adults and children in Romania. We are delighted that together we will provide social, sporting and recreational experiences at the highest quality standards to all members of the Amber Forest community. The facilities will also be available to people who do not live in the community, but want to have a balanced lifestyle.", said Alex Skouras Managing Partner Alesonor
—
"Through this partnership, we intend to use the experience of the Pescariu Sports&SPA brand, the knowledge accumulated in over 20 years of presence on the sports and leisure services market in Romania, to create the perfect wellness center for the Amber Forest project. We are happy to join forces with the Alesonor team and we are convinced that we will bring more balance and harmony to the lives of every resident of the Amber Forest suburb and beyond.", said Ioana Georgescu, Managing Partner Pescariu Sports&Spa
Amber Forest is a mix-use project featuring 500 green villas, 200 green apartments, a 5-hectare park and numerous sport, leisure, educational and work facilities. The suburb will be developed on a land plot of 31 ha having a land coverage area of just 15%.
Construction works started earlier this year and at the moment work is being done in parallel on the construction of 180 units as well as on the infrastructure of the project.
Amber Forest suburb offers over 20 types of villas starting with 2 bedrooms and also 14 types of apartments starting with 2 rooms, responding to multiple needs and preferences. The price for the 2 bedroom green villas available starts at 221,000 euros plus VAT. The price of green 2-room apartments starts at 110,000 plus VAT.
More than 350 Amber Forest green homes have already been sold.