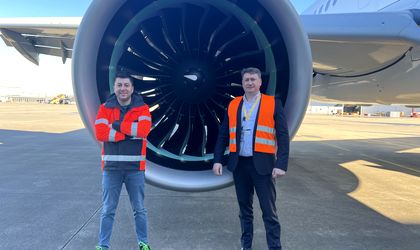 HiSky representatives performed, on Tuesday, February 28, the final inspection and acceptance flight of the first A321 neo LR aircraft, joining the company's fleet. Thus, HiSky officially becomes the first air operator to register this aircraft model in Romania. In the coming days, the aircraft, with the registration no. YR-WOW, will be transferred from the Airbus factory in Hamburg, Germany, to a maintenance base in the Czech Republic for painting, before arriving in Bucharest at the end of this month.
The new HiSky aircraft was produced in 2022 and is part of the new generation developed by Airbus, incorporating the latest technologies in terms of air transport safety and efficiency. The two engines with which the aircraft is equipped, Pratt & Whitney GTF™, ensure a reduction in fuel consumption of up to 20% and up to 20% less CO2 and 50% less NOx.
"After only two years since HiSky started operating regular flights, we now are able to add to our fleet the best performing aircraft model currently on the market. The final inspection and acceptance flight of a new aircraft right at the Airbus factory are experiences that every pilot and every entrepreneur in this industry dream of and I'm glad I had this opportunity. But this moment marks, first of all, the fulfillment of the promise we made to ourselves and our passengers from the very beginning. We set out to be a modern company, thus the safety of passengers and the measures to reduce the impact of aviation on the environment are our main objectives.", said Iulian Scorpan, CEO of HiSky.
HiSky's chosen model, the A321 neo LR, is the extended-range version of the A321 neo aircraft, capable of flying a distance of up to 7,400 km. This performance will allow the airline to operate longer non-stop flights. The aircraft registered YR-WOW has a cabin configuration of only 201 seats, thus offering significant space to each passenger, given that the maximum number of seats with which this model can be equipped is 244.
This is the sixth aircraft in the HiSky fleet, now the largest operator of Airbus aircraft in Romania. The seventh aircraft, also an A321 neo LR, is scheduled to be delivered by the French manufacturer at the end of April.
HiSky operates regular flights from Bucharest, Cluj-Napoca, Iași, Baia Mare, and Chisinau to domestic and international destinations, as well as charter flights in partnership with the main travel agencies in Romania.