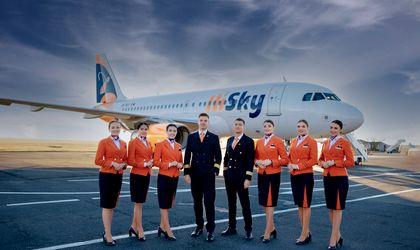 The HiSky is expanding its operations in the Bucharest hub with three new routes. The airline thus reaches four international destinations and two domestic destinations operated from Otopeni airport. Belgium, Ireland, and Spain are the countries to which Romanian passengers will be able to travel with HiSky, departing from Bucharest, starting end of this year.
By opening the new routes, the company aims to respect both its growth strategy on the Romanian market and the promise to passengers, undertaken with the opening of the operational base in Bucharest, in May of this year. The three new destinations, Brussels, Dublin and Malaga, were selected taking into account the travel needs of passengers for business and vacation purposes, but also with the desire to create a comfortable and accessible transport alternative for Romanians living and working abroad.
"We continue to pursue the company's multi-segment growth strategy as we aim to become the leading travel option for all categories of passengers. By opening the new routes, we complete our business travel portfolio, adding Brussels as a destination, very well connected with our domestic flights, Bucharest – Cluj Napoca and Bucharest – Timișoara, and we add a new category of destinations departing from our capital to cities where significant Romanian communities live, such as Dublin and Malaga. Practically, at this moment, the Bucharest base becomes the main operating hub for HiSky and we manage to cover business traffic, city breaks, incoming tourism and the Romanian diaspora with regular routes, as well as the most popular holiday destinations, through charter flights", explains Mareș Cărăvan, Commercial Director of HiSky Europe.
The winter schedule comes into effect starting November 28th, with the launch of the Bucharest – Brussels route, with three weekly flights, departing from Otopeni airport to the main airport in Brussels, Zaventem and return. The flights will be operated every Monday, Wednesday and Friday according to the schedule: Bucharest (OTP) 10:40 – 12:20 Brussels (BRU), Brussels (BRU) 13:20 – 16:50 Bucharest (OTP).
The Dublin and Malaga routes will be launched in December, the dates not being chosen by chance but in order to serve the Romanians who will be traveling home during for the winter holidays.
Thus, the Bucharest – Dublin route will be operated starting December 7th, with two frequencies per week, on Wednesdays and Sundays: Bucharest (OTP) 18:30 – 20:10 Dublin (DUB), Dublin (DUB) 21:10 – 02:50 Bucharest (OTP).
On the 11th of December, the first Bucharest – Malaga and return flight will be operated, this destination is also scheduled to be operated with a frequency of two weekly flights, on Wednesdays and Sundays as follows: Thursday Bucharest (OTP) 11:10 – 14:20 Malaga (AGP ), Malaga(AGP) 15:20 – 20:10 Bucharest (OTP) Sunday Bucharest (OTP) 07:00 – 10:10 Malaga(AGP), Malaga(AGP) 11:10 – 16:00 Bucharest (OTP).
With the opening of the new destinations, HiSky also introduces new services for passengers, such as buy on board, available on all routes, and business class available for the Bucharest – Brussels route. The price of a trip departing from Bucharest starts from 29 euro for the destination Dublin, 49 euro for the destination Brussels, and 39.90 euro for Spain, Malaga.
HiSky operates direct international flights from Romania departing from the airports of Bucharest, Cluj-Napoca, Iasi, and Baia Mare to Tel Aviv, Brussels, Dublin, Malaga and Paris. From the Republic of Moldova, passengers can travel with HiSky to five foreign destinations, Milan, Paris, Dublin, Frankfurt and Tel Aviv. The company operates a fleet of five aircraft, with an average age of 7 years, from the Airbus A320 family. Starting from the 2023 summer season, HiSky will operate non-stop long-haul routes with two new Airbus A321neo LR aircraft scheduled to join the company's fleet in March.