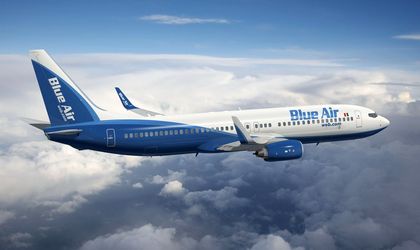 Blue Air estimates its 2018 turnover at EUR 460 million, a growth of about 10 percent compared to the previous year, according to its latest press release. Celebrating its 14th anniversary, the company said it has transported over 26 million passengers since it became operational, making it the largest Romanian airline by the number of passengers transported.
To mark Romania's Centenary, Blue Air launched two special Boeing 737-800 planes featuring portraits of King Carol I and King Ferdinand I.
Blue Air has airbases in Bucharest, Iasi, Bacau and Cluj, as well as in Constanta during summers. In Europe, its airbases include Torino and Alghero in Italy, Larnaca in Cyprus and Liverpool in the UK.
The company's fleet is made up of Boeing 737 aicraft, with frequent additions of new models. This year, the airline has invested EUR 16 million in this segment, as well as in its team professional development and in the routes network.