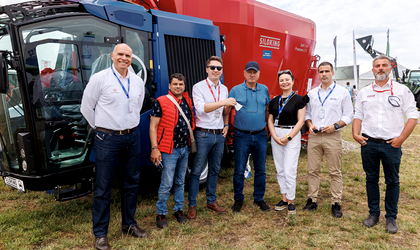 Sigma CVM Romania, a leading provider of agricultural machinery, is thrilled to announce the successful sale of its first Siloking feed mixer. This milestone marks a significant achievement for the company as it expands its product offerings and establishes a strong presence in the livestock farming industry.
The Siloking feed mixer, renowned for its innovative technology and exceptional performance, offers a range of advanced features designed to optimize feed preparation and distribution.
Due to their large capacity of 15mᶟ, 19mᶟ, and 22mᶟ, these models are the ideal solution for large farms and farms with larger performance groups. With the long arm of the milling head, all Premium models can pick up the feed from heights of up to 5m. The standard unit on these models is a turbo diesel engine with 4 cylinders from Volvo Penta, with a power of 129kW (175 HP). In addition, the 3-point chassis provides the machine with a minimal turning radius. For comfortable driving even on rough roads, the machine can be equipped with an independent wheel suspension, which is standard for the SelfLine Premium 2215-22 model.
Sigma Romania takes pride in delivering high-quality agricultural equipment, and the sale of the first Siloking mixer further reinforces its commitment to customer satisfaction. The company's team of experts worked closely with the client to understand their specific requirements and provided personalized guidance throughout the purchasing process.
"We are delighted to announce the sale of our first Siloking feed mixer in Romania. This achievement reflects our dedication to providing cutting-edge solutions that enhance productivity and efficiency for livestock farmers. We look forward to supporting our customers in achieving their goals and meeting the evolving demands of the industry," said, Artemios Kotsiras, General Manager of Sigma CVM Romania.
Siloking's series production ensures reliability, a secure investment and experience. The high level of vertical integration also involves comprehensive documentation and organized supply of spare parts. Thanks to experts and an extensive inventory of spare parts on-site, purchasing a Siloking machine is a secure investment. With over 30,000 units sold worldwide, SILOKING has vast experience in producing products that are absolutely reliable, durable, and efficient. Flexible assembly lines allow for a combination of current-level products and high product performance.
With this successful sale, Sigma Romania strengthens its position as a trusted provider of agricultural machinery, meeting the diverse needs of farmers across the country, especially as its services includes also Spare Parts and Service. The company's extensive range of products, including trailed, self-propelled, and electrically driven feed mixers, demonstrates its commitment to offering a comprehensive selection to suit different farming operations.