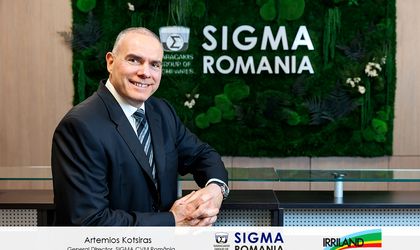 Sigma CVM Romania www.saracakis.ro – a member of Saracakis Group of Companies, is pleased to announce that it has been appointed as the national distributor for Irriland products in Romania. This partnership will allow Sigma CVM Romania to provide Romanian farmers with innovative solutions for irrigation, particularly in the face of frequent periods of drought.
Irriland is an Italian manufacturer with worldwide distribution of its products, and more than 30 years of presence in the particular market. Its product portfolio includes hard hose reels, motor pumps, and irrigation booms. Irriland's extensive experience is the result of uncompromising hard work and passion with the aim to provide a range of products characterized by uniqueness in terms of safety, quality and reliability in every field.
"This partnership with Irriland is a valuable addition to our portfolio which will allow us to better serve the needs of our customers," stated Artemios Kotsiras, General Manager of Sigma CVM Romania. "We are excited to offer farmers in Romania the latest technology in irrigation helping them increase their productivity and efficiency."
—
"We are confident that our products will be well received in Romania and we are looking forward to working with Sigma CVM Romania to help farmers in Romania to overcome the challenges of drought," said Diego Maione, Sales Manager of Irriland.
Petre Gherghe, Agricultural Solutions Sales Manager mentioned:
"This partnership is one more step by SIGMA CVM Romania on its way to be the immediate choice of Romanian farmers for any type of agricultural solutions they are looking for".
Sigma CVM Romania is a leading provider of agricultural solutions committed to helping farmers increase their productivity and efficiency using innovative products and services they provide in the Romanian market.
Since its establishment in Bucharest, Sigma CVM Romania – the sole importer of Massey Ferguson, Siloking, Giant, Topcon across the country – it employs 145 professionals in 11 locations and has reached 45 million Euro turnover in 2022 after only one and a half years of presence in the market.
Saracakis Group of Companies (www.saracakis.gr) is a leader in the Greek business landscape for over a century and holds the status of exclusive distributor for a wide range of international brands in the automotive industry.
Established in 1922 and still run by the founding family, Saracakis Group of Companies is an active organization dedicated to serving and supporting its customers: individuals, private and state-owned companies. The group's structure includes several companies, each entity being protected and promoted. Currently, Saracakis Group of Companies operates in Greece, Romania, Bulgaria, and Cyprus.
Turning its visions into reality and prioritizing the improvement of its customers' daily lives, Saracakis Group of Companies is dedicated to providing innovative products and revolutionary services, adding value to the communities it serves. The group is committed to creating solutions based on personalized experience while remaining fully dedicated to sustainable operation.
Key figures for 2022: revenue: 230 million EUR, employees: 550, retail: 350 locations (owned and leased)
Represented international brands: 20 (including Massey Ferguson, Volvo, Honda, Mitsubishi, Komatsu and others).