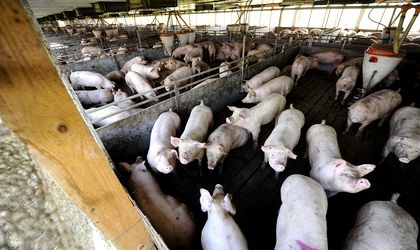 The owner of the biggest pig farm in Romania, which is also the second largest in Europe, called for an assessment of damages resulting from the planned culling of 141,000 pigs located in a source of African swine fever.
The manager of SC TEBU Consult Braila delayed the euthanasia of the pigs because he needs to a clear picture of the damages that will be incurred by the company, said Gicu Dragan, the director of veterinary health department.
The African swine fever infection was confirmed in three separate pig farms from Braila county, comprising more than 35,000 pigs that will be euthanized.
"I believe that the animals in these farms got sick due to the Danube water. Farms are supplied with water from the Danube," said Dragan, adding that pig carcasses were found in the Danube. "We killed 29,000 pigs in order to protect these farms. We focuses on land and the virus came by water," said the official.
In Braila county there are 34 sources of African swine fever, in 19 localities, including Braila. Over 30,000 pigs from three farms were euthanized up to now, according to the prefect of the county, George Paladi.
African swine fever is one of the most devastating diseases affecting pigs. There is no vaccine, but it is not harmful to humans.
Over 350,000 pigs are set to be culled due to the African swine fever and hundreds of jobs will disappear in Romania, according to Mediafax newswire.