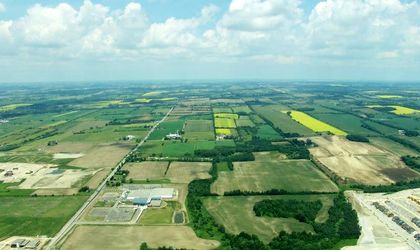 Non resident foreign citizens will be able to buy Romanian farmland starting 2014 according to Romania's Treaty of Accession to the EU, and the chances of stopping this from happening are very unlikely, said Agriculture Minister Stelian Fuia this Wednesday, according to Mediafax newswire.
The minister explained that prolonging the period during which Romania can restrict the purchase of local agricultural land by foreigners after 2014 can only be done if the accession treaty will be changed, something that is almost impossible to implement.
"Through the accession treaty we have accepted this clause, this obligation, that starting with the 31st of December 2013, we will liberalize the agricultural land market. And who says today that we can somehow impose a moratorium for several more years, is wrong. We should see if any accession treaty of a country that joined the EU after 2004 was ever changed. Thereby, the chances of stopping foreigners from buying local farmland after 2013 are almost zero. This doesn't mean that we will not take steps in this direction," said the minister.
Authorities in Bucharest have previously said that they are considering asking the European Commission to prolong the period during which Romania can restrict the purchase of local agricultural land by non-resident foreign citizens beyond 2014, based on the argument that local agricultural land is still very cheap compared to the rest of the EU.
Former agriculture minister Valeriu Tabara was one of the main officials that opposed the liberalization of the Romanian farmland market starting with 2014. Fuia also said in press conference this February that he would like the interdiction to apply after it expires at the end of 2013.
Low prices have attracted numerous foreign investors in the past years. About 8.5 percent of the country's total farmland is owned by foreigners (through local companies) according to data from the Ministry of Agriculture.
Under Law 312/2005 foreign citizens and companies registered outside Romania will not obtain the right to own land in Romania until seven years after Romania's EU accession, which is 2014. However, foreign investor can circumvent the legislative restriction by purchasing land through local companies.
Farmland prices are looking at future growth
The price of Romanian farmland will remain on an upward trend and it should reach an average of EUR 3,000 per hectare in three years time, reveals a DTZ Echinox report. Currently, local farmland is between 3 to 7 times cheaper than in other European states.
The average price of a hectare of farmland was of EUR 1,972 last year, up from EUR 927 in 2007 and EUR 1,700 de in 2010. There are, however, considerable variations depending on the region and the size of the plot. The real estate company estimates that there are about 500,000 hectares of farmland for sale in Romania, but most of it is available in small plots. order essay
Simona Bazavan