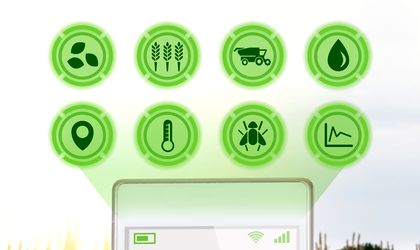 The potential digital transformation of more than 3.4 million farms in Romania could spur the creation of numerous startups that could tackle some of the biggest challenges impacting Romanian producers and pave the way for the smart farms of the future.
By Ovidiu Posirca
While European officials are exploring the way in which investments in robotics, 5G, and Artificial Intelligence could improve the efficiency of farming, the local market is still grappling with insufficient knowhow and capital to invest in the latest technologies.
"I think that technology startups targeting this sector of the economy are joined by established AgriTech providers in facing a major hurdle, i.e., a minute market caused by limited demand for technology from the Romanian agricultural sector. This is in part due to a gap in the overall strategy for public subsidies, as short term support is mostly targeted at immediate expenses and emergency relief, while long term support is mostly aimed at equipment acquisitions, without any targeted funding for investment in novel technologies, such as those needed for digital transformation," Daniel Rosner, programme manager at Innovation Labs, tells BR.
Romania has roughly 3.4 million farms, of which 2.9 million are those in which households consume more than 50 percent of final production. This places Romania first in the European Union, according to Eurostat, the statistics office of the EU.
Local startup Agritech Center has created an online marketplace where farmers can trade a wide array of products and services ranging from crop inputs to equipment and repair assistance. "The main challenge is to move online as now farmers are using Facebook for their personal lives, but not for business. It is quite hard to attract them into the platforms and apps ecosystem. The pandemic will change this quickly, so our farmers must learn how to use social media channels, to create a website, to install apps that help them sell and promote their products," representatives of Agritech Center told BR.
The European Union is providing close to EUR 60 billion in subsidies for around 10 million farms under the Common Agricultural Policy (CAP). The EU is also backing digital technologies that can boost productivity. From robots that can harvest crops to Internet of Things solutions for farmers and enhanced analysis tools for land, EU funds are used to help farms keep their competitive edge at the global level.
EU representatives say that the digitalization of agriculture will provide many benefits such as reducing the impact that farming currently has on the environment.
"The latest generation of digital technologies could be very useful for Romanian agriculture if the Ministry of Agriculture dealt primarily with the creation of specialists in agriculture, animal husbandry, and other departments of agriculture, making it a real industry," Madalina Ilie, founder of Romanian startup Manna Foods Solutions, told BR.
Her startup is currently developing Reebo, which is the first 3D food printer in the world designed as a vending machine that can offer cakes and ready-to-eat sandwiches. Going forward, the startup will focus on the development of at least two more projects that can also have a significant impact on future food concepts, which have already started and are currently in the experimental prototype phase.
Romania has signed a European declaration for a sustainable digital future of agricultural and rural areas. "Europe has very valuable assets to build on, such as our strength in robotics for precision farming and CAP implementation systems based on digital data management solutions," reads a paragraph of the declaration which outlines the need for research and an innovation infrastructure for smart farming.
Innovative approaches by startups in Europe
Startups across Europe are getting funding for innovative agriculture technologies designed to improve the overall results of farming operations. In the livestock tech field, Dutch startup Connecterra got EUR 7.8 million to develop a system that helps dairy farmers monitor their herds. The concept is based on sensors fitted on the livestock. The entrepreneurs say their solution can eliminate the use of hormones in dairy farming and cut the use of antibiotics by 50 percent.
Elsewhere, Irish ApisProtect raised USD 1.8 million to develop internet-connected beehive sensors. The data generated by the sensors is analysed by machine learning and farmers can receive notifications if the bees get sick or are attacked by pests. Several startups are developing robots that can kill weeds so that farmers can limit the usage of chemical-based solutions. UK-based Small Robot Company and RootWave are developing technology for a weeding robot that can use electric current to get rid of unwanted plants. The firms got GBP 1 million from Innovate UK to work on this project.
Other startups in Switzerland, Denmark, and France are developing farming robots that can kill weeds with a precision dose of herbicide."We will see a move to per plant precision in agriculture, and swarms of smaller machines doing the work. It will completely change the way we grow food — and it could even change the way the countryside looks," said Sam Watson Jones, the chief executive of Small Robot Company, quoted by Sifted.eu. Meanwhile, Berlin-based Plantix raised EUR 6.6 million for its app that helps small farmers detect plant disease and pest infestation with a smartphone camera. The photo taken by the farmer is fed into an AI-based image recognition software, then the app provides data on the most probable disease, nutrient deficiencies, and relevant pests. Insect farming startup Ynsect has raised over EUR 175 million from investors, including EUR 20 million from an EU programme. The company uses vertical farming and robots to produce insect protein from mealworms that can be used as animal feed and fertiliser.