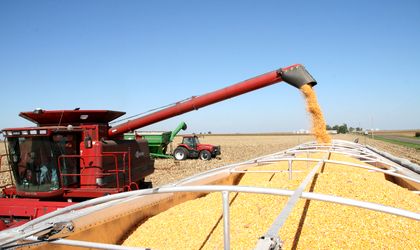 Grain production went up last year, and so did traders' interest in acquiring or developing cereal terminals in Romania's Black Sea ports. Alfred Toepfer, Ameropa and CHS were the main players that invested in better access to local maritime hubs.
 Simona Bazavan
After announcing last year that it had plans to invest in a terminal in a Romanian port, grain trader Alfred Toepfer started operating the 260,000-ton export terminal owned by Minmetal in the port of Constanta two weeks ago, Minmetal manager Teodor Bolocan told ZF.
Building the terminal required a EUR 35 million investment and Alfred Toepfer is one of Minmetal's shareholders. However, Alfred Toepfer will not be the only company operating from the terminal. Other Minmetal clients include North Star Shipping and Ameropa.
Alfred Toepfer is just one of the latest grain traders to invest in expanding their local footprint on the Romanian Black Sea coast and on the Danube.
Last year's record harvest and the benefits brought by direct access to the Black Sea and the region have led several players to invest in the Constanta area.
One of the main transactions in this sector last year was American giant Cenex Harvest States' (CHS) acquisition of AgriPoint, a local company that operates the Silotrans grain terminal in Constanta, from Serbian East Point Holdings. The price tag for AgriPoint was EUR 45 million. The company also has operations in neighboring Hungary but its greatest asset was the Silotrans grain silo in Constanta.
CHS is one of the largest grain, food and energy producers in the world. Through the acquisition of AgriPoint, the company is looking to develop its global presence in regions with a high growth rate such as Romania, Bulgaria, Hungary and Serbia, announced the company at that time.
Also last year, Ameropa Holding AG, a leading Swiss fertilizer and grain trader, acquired Romanian fertilizer producer Azomures and Chimpex, a harbor operator in Constanta, both listed on the Bucharest Stock Exchange.
Exports reaped from record harvests
2011 has been described as one of the best years for Romanian agriculture in the past decade. The corn harvest amounted to 11.4 million tons compared to 9 million tons in 2010, while wheat production was approximately 7.4 million tons, up 25 percent y-o-y.
Higher harvests also meant better business for grain traders present in Romania. These companies exported cereals and oil seeds worth EUR 1.6 billion in the first 11 months of last year, up 28 percent y-o-y, according to data from the Ministry of Agriculture and Rural Development (MADR). This represented half of Romania's total food product exports for the same period.
Traders such as Cargill, Alfred Toepfer, Nidera, Glencore, Ameropa and Agricover control the bulk of Romania's grain exports.
Agriculture was the sector of the Romanian economy that reported the highest growth rate last year – 11.3 percent. It was followed by industry on 5 percent and services which rose by 4 percent.
2011's agricultural performance was mainly generated by good weather, whereas poor weather conditions last autumn and so far this year are threatening this year's crops.