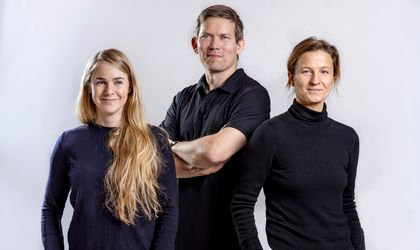 Climate and fintech company Agreena, whose soil carbon platform is one of the largest globally, today announced its Series B raise of €46M. Led by Germany's leading multi-stage investor HV Capital, the round has an exciting composition of new investors including impact fund AENU and fintech-focused Anthemis.
The equity raise is also supported by a doubling-down from existing shareholders, including evergreen food investor Gullspång Re:food, well-established tech investor Kinnevik and Denmark's Export and Investment fund.
The sizable raise comes just one year after the company's €20M Series A. Since then, Agreena has scaled its activities 10X, expanded its geographic footprint to cover farmland in 16 European countries, and partnered with farms to help them transition more than 600.000 hectares towards climate-positive, regenerative farming.  Only in Romania, Agreena manages over 70.,000 ha, and in the Republic of Moldova 170.000 ha.
"In order for the world's farmers to transition to regenerative agriculture and create a scalable climate impact, the financial rails to support and pay them for it need to be built", said Simon Haldrup, Co-founder and CEO of Agreena. "Agreena is building out technological and financial services infrastructure throughout the agriculture value chain as the industry increasingly becomes a focal point for decarbonization efforts."
Momentum around regenerative farming is sweeping the globe, with corporates, governments, and supply chains turning their focus to our agricultural soils for carbon removals to meet global net-zero targets. Through the adoption of regenerative agriculture practices, farmers will play an increasingly essential role in tackling climate change, food insecurity, and other critical environmental issues. Agreena has developed a way to turn this impact into a new and additional revenue stream for farmers to help finance the transition by leveraging the carbon market.  
Via the company's digital platform, farmers plan, track and validate improvements for their regenerative journey, in the process of transitioning from emitting CO2 to drawing CO2 down and storing it within their soils. The improved soil health and biodiversity reduce the need for inputs while enhancing farmers' resilience to increasingly adverse climate conditions (such as drought or flooding), enhancing the overall operational performance of farms. On the other side of the equation, Agreena's certificates and downstream services support climate-focused companies already working to decarbonize, as well as companies in the food supply chain increasingly requiring field-level traceability of their agricultural commodities to comply with Scope 3 reporting requirements.
Scaling with Technology
The recent acquisition of remote sensing company Hummingbird Technologies has enabled Agreena to expand its offering beyond farmers to encompass agridata services for supply chain players, governments, and other institutions. Prioritizing a science-based and technology-first agenda, Agreena's platform now incorporates a world-leading, AI-based monitoring and verification solution that utilizes satellite imagery, coupled with ground-truth data and machine learning to identify and report on-farm regenerative agriculture practices. Offering global monitoring, the company is on a mission to take the lead in supporting the road to net zero for the full value chain. 
"Real climate impact is only created at scale and Agreena is perfectly positioned to distribute their carbon farming capabilities across the globe to bring high-quality, verifiable, and nature-based carbon credits to the market. Only with carbon removals, can net zero targets be met", said Alexander Joel-Carbonell, partner at HV Capital. 
From Farmer to Fintech
Deeply rooted within the agricultural community, Agreena was originally founded with seed investment from Danish farmers and agricultural families. The company's next phase introduces a vertically integrated platform and marketplace. Working first with farmers in the field to monitor the carbon impact, the resulting certificates are constructed into scalable portfolios for corporates, tailored to their unique ESG strategy.
The company is taking a lead in providing the technological rails for the growing market with innovative financial solutions. Examples include using sustainable blockchain technology for enhanced traceability and transparency of carbon credits, and e-money and smart contracts to facilitate payment exchanges between climate-conscious corporates and farmers with immediate reconciliation at scale.
"We are on a journey to remove the economic barriers to adoption of regenerative agriculture for farmers and their entire ecosystem – carbon is just the beginning", concluded Simon Haldrup.