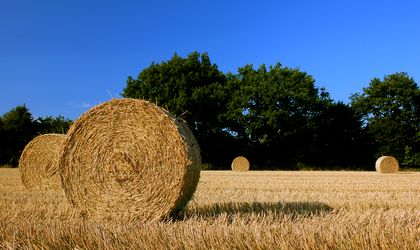 What does it take to invest in Romanian agriculture? What are the risks? After the fruitful results reported in the past couple of years, local agriculture has been getting a lot of attention from investors and entrepreneurs who can see big profits beyond some of the industry's deeply rooted issues. BR talked to consultants and local entrepreneurs to get their take.
Simona Bazavan
Camelia Sucu, Jean Valvis and George Copos are just some of the more prominent local businesspeople who, having established themselves in other industries, have announced plans to diversify their operations by investing in agriculture. And they are not the only ones. Soaring food prices worldwide and cheap local farmland have put agriculture on investors' radar and many entrepreneurs are trying their luck with cultivating the land.
The record results reported by the sector in the past few years are the main factor that has spurred investors' appetite, but not the only one, Gabriel Ionescu, advisory coordinator of the AgroManager program of AgroAdvice, tells BR.
Entrepreneurs are also lured by the greater financial support promised by the Common Agricultural Policy (CAP) for 2014-2020, even if it also proposes capping direct payments for large farms. Young farmers too stand to reap additional benefits from the future CAP.
Be it traditional crop cultivation, zootechnics, organic farming or agribusiness, agriculture can be a profitable business for those with a solid, well thought out and well implemented business plan, consultants argue. The same business rigor applies here as in any other domain, if not even more so. Discipline, methods, speed of reaction and planning are even more important when running a business in this field, thinks Ionescu. Those venturing to invest in agriculture can be largely divided into two main profiles. "On one hand there are those passionate about agriculture and who have a background in this field," says Ionescu. The second category consists of investors who don't have the necessary professional background but who choose to hire specialists.
Weeding out the setbacks
One of the greatest challenges an investor faces when deciding to start a farming business is acquiring the land. While there is plenty on offer and Romanian farmland is valued on average at less than 20 percent of its Western European equivalent, land fragmentation remains a major stumbling block. About 25 percent of the country's agricultural land is divided into plots of under one hectare, whereas investors are looking for blocks of over 1,000 hectares, say real estate pundits. A compact plot of 1,000 hectares can often be obtained only by buying land from 500 to 900 individual owners, which makes the consolidation process very difficult, Marius Grigorica, senior business analyst at DTZ Echinox, previously told BR.
"Land consolidation is essential. If one wants to start an agriculture business and owns, let's say, 1,000 hectares but this land is scattered all around in different smaller plots, it makes it impossible to properly manage the land. Chances are that the business will go bust," argues Ionescu.
Another challenge ahead is managing the cash-flow. "In agriculture there are production cycles. This means that income generally comes twice a year whereas many costs are monthly. Having the necessary working capital is crucial," the consultant adds. There is also the issue of having the necessary know-how to implement the right technologies for the land, weather conditions and available budget.
But while the need for specialized agricultural advisory services is huge in Romania, the market for independent paid-for consultancy is in its very beginnings. "The need for proper know-how is whopping and this becomes obvious when looking at the low average production levels reported in Romania against the EU averages," says Ionescu.
In his opinion the problem lies in the fact that local farmers have grown accustomed to and settle for getting free advice when acquiring industry products, but this sort of information is often biased and incomplete. Putting all in the balance, agriculture can be a more precarious field than others, if for no other reason than for the fact that it relies on nature. "What many don't understand is that in agriculture one has to deal with nature. From ten years there could be three or four exceptional ones and three or four which can turn out disastrously. (…) In Romania irrigation infrastructure is obsolete but even if this wasn't the case, irrigation can never entirely replace rain," says Ionescu. Add the lack of proper know-how to the equation and agriculture becomes a truly risky business.
Moreover, farmers often find themselves at the mercy of international stock exchanges which dictate the price of both inputs and outputs. Business integration and association can make farmers' lives easier in this respect, argues Ionescu.
But despite all this, agriculture can be a profitable business when done professionally. "I wouldn't say that the rate of failure is greater in this sector. There are different challenges and risks and one has to adapt," he adds.
Sowing the seeds of future growth
Not everyone agrees that investing in agriculture is riskier. After having established herself in the furniture business, local businesswoman Camelia Sucu is putting her faith in farming as one of the sectors that will bring considerable returns in the years to come.
"Agriculture can be a lucrative business if it unites private and public interests, if it mobilizes more than a handful of people. The risk of bankruptcy is no higher than elsewhere. However, success in agriculture would definitely be more visible, it would coagulate social forces which would lead to progress for the whole country. I believe agriculture is generous if practiced with honesty like any business: people work responsibly around objectives motivated by interests and sharing risks," Sucu tells BR.
She bought Piata de Gros – a wholesale market for agricultural products in Bucharest which was designed to bring together producers and retailers – in 2010 for EUR 5.5 million. Last October Sucu announced plans to invest between EUR 10 million and EUR 15 million in modernizing and expanding the project which she says is presently in an advanced stage. She now plans to launch a new brand for the market.
"The plans are ambitious and don't center on the market alone but also on the virtual space around the market, farmers' associations and strategic collecting points for agricultural goods. The market can't work in isolation; it must be fed by a viable agricultural and commercial system. In order for this to happen I need the authorities' support through a public-private partnership, I need visionary people willing to invest" she says.
Sucu, who owns the Class Living luxury furniture retailer and co-founded furniture company Mobexpert, also invested last year in a cattle farm in Transylvania.
"I believe in agriculture and moreover I believe that for Romania agriculture is an engine that can restart the economy. I believe in the country's agricultural potential and in agriculture's potential to represent an alternative to create jobs and prosperity," says the business woman.
Romanian agriculture has come a long way in the past 20 years but not as far as it should have, many argue. Considerable investments have been made and production rates go up almost every year. At the moment a number of modern and profitable local farms, albeit a small number, can compete on equal grounds with their Western counterparts. However, this will remain the exception rather than the rule so long as subsistence agriculture continues to be practiced on a considerable share of the country's total farmland. And it is not enough to make local agriculture a strong industry, argues Ionescu.
"It is unacceptable for an EU member country to have 10 million farmland owners who cultivate under 10 hectares of land each, much of which is done as it was done in the stone age. This is a political decision and if change doesn't come in order to boost efficiency, agriculture will be able to make a difference only every few years when there happens to be exceptional weather conditions and we report record production levels. Otherwise we will remain the last on the list and we will continue to languish far below the EU average," concludes Ionescu.
simona.bazavan@business-review.ro
More on the state of local agriculture at the Business Review Focus on Agriculture event. Details here.