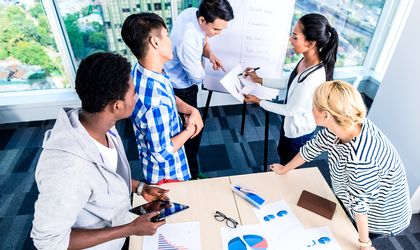 A roadmap shows the development strategy of a project, product or company. It's made in a way to be clearly understandable for any specialist or stakeholder, so it's widely used for business strategy explanation during negotiations. That is why you may wish to create a product roadmap for your project.
A roadmap is an essential tool of the product manager's work, but, if used incorrectly, it can only confuse the team, and end up as a waste of time and money. That is why we have collected the best practices that will help you avoid common mistakes. Keep on reading to find out how to create a product roadmap without much effort.
What Is a Product Roadmap?
A product roadmap is a document that describes a product development plan and its further evolution. In simple words, it's a visual representation of the list of tasks that need to be completed during the development process.
As it's stated in the Product Coalition blog, "Product roadmaps define the "Why" are we doing it, and the Product Backlog defines "What are we building"". Thus, you should remember that it doesn't focus on the methods that will let you achieve your goals.
The right roadmap should be informative and transparent to allow you and your stakeholders to see your future product in all details. It should function as a single source of information for everyone involved in the product planning and development. That is why only highly-qualified specialists should be responsible for the roadmap creation. These people should be able to take responsibility for the other team members. It can be a product owner and project managers.
The roadmaps are divided into two types (according to the audience for which they are developed):
Internal
It's designed for the product team and internal stakeholders and focuses on product vision, strategy, goals, timelines, etc. It provides a strategic look at the data.
External
It's designed for customers and external stakeholders and usually has a presentation-like format. It doesn't provide specific information about the development process. Such roadmaps describe the product's benefits and are easy to understand.
Before you begin to develop a product roadmap, you need to define such points:
What do you want to achieve?
How do you see your product in the future?
Plan of actions that will allow you to achieve your goals.
The core characteristics of the product.
Time frames. Time periods required to finish a certain stage of product development.
Status markers. They are needed to track the progress.
Measurements of churn rate, organic traffic, etc.
Why is it Important To Create a Product Roadmap?
Here are the top reasons why your business may benefit from building a product roadmap:
It keeps stakeholders informed and interested in your product development.
The roadmap helps elaborate the product development strategy that will guide you and your team through the development process.
Roadmaps help establish effective communication between different departments and organize the working process.
It allows you to share status updates quickly.
Thanks to the roadmap, you will see a clear picture of your capabilities and will be able to align them with your business goals
You will save your resources on the implementation of unnecessary technologies.
How to Build a Product Roadmap: Top Best Practices
The creation of a roadmap is not an easy process. Nevertheless, a roadmap will only be useful if it's done correctly. In this connection, we offer top practices that will be helpful during the roadmap development.
#1. Conduct a research prior to creating a product roadmap
When you just start working on your project, it's imperative to take the time for research to spot all the potential problems that can occur during the development process. These problems must be reflected in your roadmap. However, it's not necessary to include the ways to solve the problems: you can just point them out and instruct your team to find ways to solve them.
#2. Make sure to choose the most suitable roadmap format
There are 3 roadmap formats to choose from:
No-dates product roadmap
This roadmap is flexible as it's not limited in terms of timelines. If your priorities are constantly changing and you are not engaged in complex long-term planning, this will be the most suitable format. As usual, this is relevant on the initial stages of the product development process when you have to process new information every day or every week.
Timeline product roadmap
As you can guess from the title, this roadmap depends on strict timelines. It's helpful when you have to manage multiple departments and deadlines and already have your first users. At this stage, several departments work together, so you need a plan with clear dates and tasks. The timeframes also show the long-term product vision.
Hybrid product roadmap
As the project matures, the roadmap will need to reflect a more complete picture of the product. This is where the hybrid product roadmap comes in. It includes certain timelines, but not strict ones. This roadmap format allows you to plan the future while maintaining flexibility. At the stage when you need to attract your first users, you start to depend on time, so you need to start planning at least a few months or quarters ahead.
#3. Make it useful for every member of your team
Every member engaged in your product's development has a different request to the roadmap, so you have to make sure that it includes all the important information. For example, stakeholders and managers want to see how the product can increase revenue and market share. Marketers are interested in the strengths of the product that will help to promote it. For developers, the most important things are technology, organization of the workflow, and approximate deadlines.
#4. Correct and update your roadmap
A roadmap is not a strict plan of action that must be completed at any cost. It's a source of information, so it needs to be updated. Moreover, an-out-of-date roadmap won't be useful for stakeholders and investors as they won't get any valuable information out of it.
A roadmap should be adapted to the conditions. For example, at the beginning of the COVID-19 pandemic, Facebook had to throw all its efforts into combating the spread of misinformation about the coronavirus; it also had to support Facebook Messenger and Facebook Live which became very popular during the quarantine period. Because of this, Facebook management had to seriously change the roadmap at short notice.
However, apart from such force majeure circumstances, there are different views on how often the roadmap should be corrected. According to the agile methodology, adjustments can be made even once a week. This makes sense when you have to constantly analyze the market to meet the customers' expectations. The adherents of clear planning claim that frequent changes in the development strategy can confuse the team, and recommend making changes once per month.
#5. Choose the right roadmapping tool
Trying to save money and simplify the process, many people use tools like Excel to create a product roadmap. However, such roadmaps are hard to update; they just provide static information. There are many cloud-based roadmapping tools that can help you speed up the process and make updates quickly and with ease. Here are some tools to choose from:
OpenProject. This service is a pay-free open-source tool that is suitable for Agile/Scrum teams. You can create multiple roadmaps for different projects via a single user profile.
ProductPlan. It's one of the most popular tools (it even was used for Windows and Adobe). It offers a wide array of templates that will work for different needs and purposes. Additionally, this software allows importing from Jira, Spreadsheets, or VSTS, making the process easier.
Roadmunk. This is another widely used roadmapping software. It's affordable and universal for various projects.
Aha!. This tool was used by Shutterstock, LinkedIn, and Dell. It offers many good templates and can be integrated with other applications.
Roadmap Planner. It's an open-source service, designed for Linux.
#6. Don't change the style of your roadmap
It doesn't matter how you create your roadmap and what tools you are using for this, as you choose a certain style, it's important not to change it. Everyone who is allowed to make adjustments in a roadmap should do it in a fixed format since it should be consistent. Otherwise, it can cause a lot of confusion.
Conclusion
As you can see, the roadmap is important for many product development processes. IAs you create a roadmap, you create a visual representation of your plan and strategy, but it doesn't answer the question of "how to do it". However, after you get a clear vision of your future product, it will be much easier to start shortlisting its features.