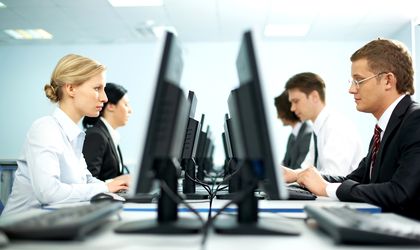 2Checkout, the monetization platform for global software and services companies, is planning a big expansion this year by increasing its team by about 25 percent. More than 50 new specialists will be recruited for the 2Checkout team in Bucharest and other cities.
Currently, 2Checkout (formerly Avangate) has 310 employees globally, 260 of whom are in its Bucharest offices. The company is looking for specialists for two major areas: software product development and customer support.
"Half of the positions are in the product development department and half in post-sale support. In the first case we are looking for specialists who want to contribute to the development of a top-notch, globally-awarded product that makes the difference in the e-commerce industry and online payments. For the second category of colleagues we are looking for young professionals who are knowledgeable in foreign languages, with good communication skills and willing to learn," explains Madalina Teodorescu, VP Human Resources at 2Checkout.
Thus, positions such as Product Manager, Product Analyst, Senior Developer, Project Manager, Scrum Master, Software Architect are already open for technical departments, but also software engineers for automated testing.
In the support departments are opened positions for technical support analysts, client service analysts (mandatory foreign speakers), financial specialists, anti-fraud and risk analysts.
"We have adopted an extremely flexible policy in the past year because we want to attract the best professionals in the field. We have a generous benefit budget that each employee decides how to use it, choosing from more than 20 services, including health care, private pensions, room workouts, meal vouchers, gift vouchers, or holiday vouchers," adds Teodorescu.
The company also offers quality improvement courses both internally and externally. Moreover, 2Checkout's human resources policy supports in-house promotion on another job within the same department or departments, only in the last year occupying 15 percent of the newly opened positions. Most of the company's managers have been selected from within, following various professional development and leadership programs. Looking for a lot of fun and excitement? Then all slots online casino is your choice! An abundance of slot machines will not get bored!
"Those who want to excel in their field have the opportunity, within 2Checkout, to achieve their goal. The team is made up of professionals in the field, the company is growing faster and employees always have support from the company for their development," concludes Teodorescu.
2Checkout is the brand behind the former Avangate company, part of the portfolio of the investment fund Francisco Partners. The company currently has the most complete product in the industry for global software and digital sales, but also physical products, being one of the largest providers of such solutions in the world. The company has over 17,000 customers globally. Through the 2Checkout platform, over one billion dollars are processed annually globally.