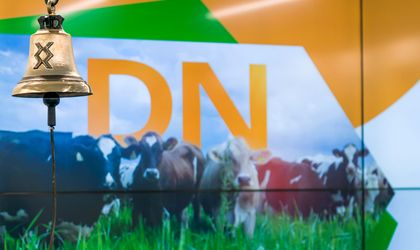 DN AGRAR Group SA, the largest integrated livestock farm in Romania, with cow's milk production and plant production, closes the first half of 2022 with a total turnover of 62, 4 million lei, a 241% increase compared to the first semester of 2021, mainly supported by the acquisition of the two agro-zootechnical farms Lacto Agrar and DN Agrar Apold.
From an operational point of view, for the first 6 months of this year, the amount of milk delivered increased by over 1.7 million liters of milk, representing an increase of 8% compared to 2021, with growth prospects. Regarding the cultivation of cereals, the Group cultivated an area 3,000 hectares larger than the similar period in 2021, mainly corn, triticale, alfalfa.
Jan Gijsbertus De Boer, Chairman of the Board of Directors of DN AGRAR GROUP SA:
"In the first half of 2022, we consolidated our position as the market leader in the production of cow's milk with integrated operations, with over 10,000 heads of dairy cows and young cattle and an operated area of ​​almost 7,000 ha of land. The assumed investment plan was continued, while the growing results of this semester give us confidence that we will reach the financial objectives set for this year. Despite the context, we managed to control the impact of the high cost increases in the first half of the year in a reasonable way, given the advantage of the fact that we produce a large part of the feed we use for the cows."
The company's plans are ambitious, with modernization projects supported by an integrated business model, part of the circular economy. In the long term, DN AGRAR Group aims to make the transition to the regulated market, allowing investors to gain exposure to agriculture in a professional and sustainable way.
The investments made have the objective of increasing the milk production capacity, as well as the area of ​​cultivated land. In April 2022, DN AGRAR Group SA successfully completed the takeover of the Apold farm, the main objective being to increase the milk production capacity of the farm by 50% by the end of the current year. The investment project included the construction of an additional milking room, animal shelters, the increase of the livestock, as well as an additional feed storage hall, all of which have already been completed in the first half of the current year. The purchase of the Apold farm, which owns 2,995 hectares, of which 398 hectares is owned, also contributed to the increase in cultivated area.