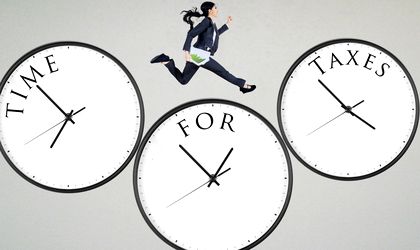 The 19th edition of Business Review's conference dedicated to Tax, Law & Lobby topics touched upon the legal and fiscal issues of recent years and highlighted the urgently needed digitalization of our country's entire public system. The pandemic, the economic and social crisis, and the war in Ukraine have forced us to make major changes to our tax system and embrace the digital economy.
By Aurel Constantin
Romania's tax system has had a significant evolution over the past few years. July 1 will be an important date because it is the deadline for our country to implement the latest updates coming from the European Commission. "The most important changes were those enacted at the beginning of the pandemic, such as the tax amnesty that companies can still benefit from. A positive change that was among the results of pandemic measures is the easier and faster repayment of VAT, as well as the procedure to reschedule debts to the Fiscal Authority (ANAF)," said Bianca Vlad, Tax Partner at Mazars.
As for the VAT system, speakers agreed that not much had happened over the last few years, but they had high expectations regarding possible changes in the coming period. "The expectation has to do with certain VAT rates being lowered, but it will be a political decision. Everyone's concerned with the decline in purchasing power, and we should see a package of fiscal measures to combat inflation, which is now reaching very high levels," said Theodor Artenie, Head of Tax Practice at Noerr. The main issue is the fact that incomes have not increased, while spending has seen a sharp rise. Everyone is trying to solve this problem by reducing spending, as it's the only immediate way to fight inflation.
"If we're talking about tax fraud, it is very difficult to stop when it becomes generalised. For example, if every employee of a large company takes 2 or 3 pencils home, the total losses reach a very high level, even if the gain is very small at the individual level. But it's easier not to fight the phenomenon, because it is too expensive to watch each employee to prevent them from taking a couple of pencils. The same happens with tax evasion," Theodor Artenie also argued.
But the way companies operate has also gone through changes in recent years. "The fiscal paradigm has changed as a result of the 2008-2010 crisis. Recently, the European Commission issued a fiscal package with new measures around intra-community transactions and cross-border invoicing, which will be implemented in all EU countries," Bianca Vlad noted.
Digitalizing bureaucracy
Digitalization doesn't just mean scanning some documents and putting them into a digital file; it must bring added value for both companies and individuals. "The digitalization process is not recent; it started many years ago. An example is the Electronic Public Procurement System, SEAP, which everyone is familiar with, and which appeared 20 years ago, in 2002. It was very difficult to manage in the beginning, but we've been able to keep it functioning 90 percent of the time. Another important system has been Ghiseul.ro, allowing users to pay their taxes online, which exceeded one million users this year, partly as a result of the pandemic," said Roxana Popescu, Director of Application Support at the Authority for the Digitalization of Romania. Unfortunately, there is an inertia among state institutions in terms of digitalization. Many town halls purchase their own online tax collection systems instead of connecting to Ghiseul.ro, which is free of charge and much simpler to implement.
"Public institutions should follow the law and make the data available to the public, but unfortunately every institution applies the law based on its own interpretation. Just like people, institutions too must have access to digital education in order to gain the degree of confidence required to use digital systems, and that takes time," says Adrian Mantoiu, Managing Director at Wolters Kluwer Romania.
An example of successful digitalization in the private sector was provided by Alina Popa, Head of Legal at CITR, who showed how the insolvency process was broken into pieces in order to automate and digitalize what was possible. "In the insolvency process of City Insurance, which CITR is carrying out, we saved RON 700,000 just by using email instead of the classic mail. Of course, that was only possible where we had the data, i.e., the email addresses of creditors who had to be notified. We're trying to digitalize as many processes as possible, including the auction part, which can be carried out online."
Unfortunately, the problem is that a new regulation (law, ordinance, decision or order) is adopted in Romania every 3 hours, coming to a total of approximately 4,500 regulatory acts every year. The high volume of regulations results in a low-quality public policymaking process and causes both institutions and business representatives to be permanently focused on solving urgent legal matters. "At Issue Monitoring, we save time for our clients and send them real-time alerts when initiatives go through these stages. In 2021, we sent 6.5 alerts every hour (13,530 alerts in total) and we followed 1,737 regulatory acts from over 20 sectors," said Octavian Rusu, Public Policy Expert & Founder at Issue Monitoring.