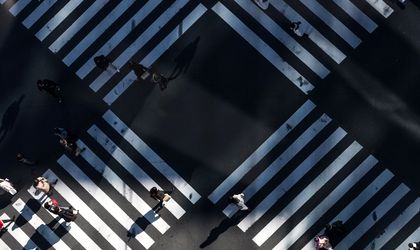 The curtains dropped on Business Review's Rising Cities. Smart Future 2022 after more than four hours of lively debate between top business leaders, local officials, the heads of the European Investment Bank and European Commission representations in Romania, and members of the civil society. The main conclusion was that without a clear strategy for making our communities more sustainable, it will be difficult for our society to keep up with European peers.
By Anda Sebesi, Aurel Constantin, Mihai Cristea
Challenges and opportunities for a sustainable city
The global trend is moving towards smart cities with efficient and environmentally-friendly buildings and cars. In the first panel of the conference, the discussions were centred on how a traditional city could be transformed into a smart one, by integrating the new environment, social, and governance (ESG) rules. These rules help us build clean cities, with clean and efficient consumption patterns. In fact, ESG rules are rapidly becoming the norm for any construction project. As pointed out by Antoniu Panait, Managing Director at Vastint Romania, the ESG concept appeared relatively recently, but it is already being embraced, and big banks are using ESG evaluations to condition investments and access to financing.
In practice, it only took a few months for ESG to be adopted by Romanian companies, just like it usually happens when various new technologies appear. Lucian Enaru, Country General Manager at Schneider Electric, pointed out that unlike 20 years ago, when Romania was at the beginning of the road in terms of technology, all of today's global innovations also reach our country right away.
But developing a smart city means more than adopting new technologies; first and foremost, it requires a medium and long-term strategy, involving all stakeholders. Claudiu Bisnel, Managing Partner at Brisk Group, explained that public authorities cannot be expected to create such plans on their own. They need support from the civil society and the business environment. It is well-known that authorities rarely manage to create long-term strategies that transcend electoral clichés, but according to Victor Iancu, Associate Partner at KPMG Romania, the pandemic has shown us that we can mobilise to adopt new plans quickly, especially since we have examples of cities in Europe from which we can learn. In fact, as pointed out by Razvan Parvulescu, Business Development Coordinator at BTD Construct & Ambient, although there is a gap between Romania and Western states, it is a gap that we are recovering quickly.
Unleashing the full potential of a smart city
A highly anticipated section of the Rising Cities. Smart Future conference was the second panel, titled "Unleashing the full potential of Smart Cities," where top business professionals from major industries—such as Marius Motofei (Business Operations & Public Sector Director at Vodafone Romania), Adrian Huma (Sector Head for Automotive, Transportation, and Logistics at ING Romania), and Michele Giove (Senior Manager for Government and Public Sector at EY Romania)—sat face to face with Lara Tassan Zanin, Head of the European Investment Bank's Bucharest office, and two of the most high-profile local public officials of the moment, Brasov Mayor Allen Coliban and Bucharest Sector 1 Mayor Clotilde Armand.
Panel moderator Dan Borbely, Partner at Tuca Zbarcea & Asociatii, started off with a short introduction: "The way I see this panel is that we have all interested parts on stage: the targets, the money, the private sector, and the consultants—so we have all the ingredients for a meaningful discussion and I'm sure we'll draw some interesting conclusions about what can we do to unleash the full potential of our cities." One of the key components of the smart city concept, as seen by the European Union, is the smart environment, and cities will have a key role in the green transition proposed by the EU. As the EU's climate bank, the EIB aims for 50 percent of the projects it manages throughout Europe to be climate-friendly by 2025, while the other 50 percent will have to be carbon neutral, explained the EIB's Lara Tassan Zanin.
"Municipalities must be key drivers of Romania's green transition. It's good to have green projects and vision at the central government level, but those who can make a real difference are the mayors, and I was happy to see two of them taking part in this conference!" the Head of the European Investment Bank's Bucharest office said.
Living sustainably
The last part of the event was dedicated to the actions of the most passionate "City Changers" aiming for a more beautiful and sustainable urban life. All panel participants highlighted the importance of creating a community around Bucharest to act as a driving force for the further development of the Romanian capital.
"While at the beginning of our activity we would focus on projects dedicated to a specific industry or sector, in the past 10 years we've shifted towards collaborative projects which have tried to generate community involvement. Today, we are trying to approach each of our individual events as tools for a greater, common good and with a long-term social value," says Andrei Bortun, CEO at The Institute. He adds that the lack of financial resources, partnerships, and know-how in the local civil society have led to many organisations and specialists in the field becoming more resilient. "It is fascinating how Romania and its society continue to develop regardless the difficulties they face. I think we could think of it as some kind of a European vocation for a part of our society who are dedicated to making this country develop in many directions," Bortun said. However, he also warned that there was just a "transactional" relation between Bucharest as a city and its citizens, likely due to the fact that around half of them are first-generation inhabitants.
Education plays a crucial role in training young generations to live in a healthy and sustainable community, fostering talents who can collaborate towards better urban living. But education is equally necessary for both young generations and older adults.
"Sustainability has many layers, from concept, vision, and strategy to the tools and technical solutions that can be used to implement it on various business lines: transportation, food, energy, and utilities," says Cristian Danciu, co-founder at Charger.ro.
In turn, Ioana Ciocan, general manager at Art Safari, had a similar opinion about the importance of education among young generations. She added that in the very beginning of the Art Safari project, back in 2014, she decided to develop an educational project for kids who wanted to visit a museum or go to a concert. "This was possible by making arts understandable for them. In 2015 we started with just 3 kids; this year we've included 10,000 of them in the Art Safari project."