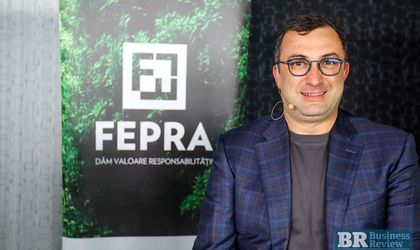 BR's Rising Cities. Smart Future | #EUGreenWeek Partner Event was held on June 10, 2021, at the 15th floor Sole Rooftop Terrace in Bucharest. Four hours of insightful talks, distributed over three engaging panels, the event brought together city officials, representatives of the business sector, and involved community leaders. A big thank you goes out to all those involved, the on-site audience, our viewers, speakers, and partners: IULIUS, VASTINT (Gold); FEPRA International, Schneider Electric, Telekom Romania (Silver); Civinet Romania & Asociatia Romana Pentru Smart City, and the European Commission, as a #EUGreenWeek Partner Event.
RISING CITIES. SMART FUTURE 2021 highlights the type of investments and actions that are needed to upgrade Romania's cities, moving to a clean, circular economy, boosting the efficient use of resources in urban areas in a long term: sustainable green buildings; environment-friendly technologies aiming to achieve zero pollution production and consumption and to become climate neutral; efficient water consumption; initiatives of organizations, associations, NGOs to raise awareness.
On Panel 3 | Sustainable Living: Passionate City Changers, Corina Murafa, Global Co-Leader New Now: Planet & Climate, Ashoka Romania Special Advisor; Florin Stoican, President, Parcul Natural Vacaresti Association; Ionut Georgescu, CEO, FEPRA International; Andreia Mitrea, CEO & Founder, Colina Learning Center and Razvan Popa, Co-Owner, Boiler Milk&Coffee talked about how do we create urban spaces for people to flourish. The panel emphasized the importance of community and how the pandemics changed the needs of urban life.
"I think in the last year if we look at what has happened in our lives, since the coronavirus pandemic, the community has a different meaning. At the beginning of the pandemic, with friends and their children, we were about 30 people, we wondered how we would live with the virus. And so a community of 30 people appeared, who met often because we all knew that we respected our values ​​and the rules of the pandemic. We created a community that one year, from planting vegetables in the yard, playing with the children, watching a movie together, we created such a community. Now, we look at other types of communities: we have started to reintegrate our professional life at work, we at the company have given up the building and offices, we meet in a co-working in such a way as to combine the benefits of working at home with the professional socialization we all need", starts Ionut Georgescu, CEO FEPRA International.
"After all, we create our communities according to the way we see the world ourselves and want to live in this world. Community is something that each of us lives," Ionut Georgescu, CEO FEPRA International.
When it comes to recycling and waste, the general public is still misinformed. "Last year, at the beginning of the pandemic, we thought about what we can contribute. Now is a time when we need to see what we can be present with citizens who want a move in this direction of circular economy, consumption, and recycling. That's how the idea of ​​ The Recycling Movement came out, and we are proud of over 50,000 people who are members of this online community and with whom we share the same values, the same goals, and desires. And in this community, we try to move from discussing only to concrete steps. For example, we made a manifesto that we launched online for a petition to support selective collection at home. We are basically the messengers to the local authorities through which we show that the Romanians want a change and they want cleaner cities, a correct selective collection, the Romanians are interested to contribute with their time, they are willing to have some slightly higher costs for selective collection and last but not least, to purchase products that are based on reusable packaging and with a high content of raw materials resulting from recycling", mentions Ionut Georgescu.
Moreover, FEPRA will launch a pilot project, a circular economy center together with a retail partner in Pantelimon, in which every person can manage its entire package of products and waste in such a way that you know for sure that it reaches reuse and recycling. "You will also receive an email when your quantity reaches the recycler, with information regarding the date. We have a full digital traceability software, even in the blockchain, and we can transmit this traceability information to the initial waste generator. In order to increase the degree of involvement, we must first of all increase the degree of transparency, at least among local and national authorities", adds Ionut Georgescu. 
"For now, sustainability is often viewed with caution, which is not good, and many often wonder if it's not just marketing behind it. But I think that sustainability can be done, it will develop, we will start living much more sustainably in the cities where we live, this is also because we as citizens begin to want more and reach another level of education where we know what we want from our cities", comprises Ionut Georgescu.
More0ver, the circular economy is still a new term, even in the EU. "We have always looked at what we do, and we don't just do the recycling part, we also get involved in reusing and reducing the amount of waste that is generated, we look around for innovation, and because innovation especially in an organization that has entered its ninth year of existence", explains Ionut Georgescu.
FEPRA has two start-ups for innovation, one is R-Create and the other is EcoTree, both from the SeedBlink area. "We have entered these two projects, in which we try to bring the idea of ​​circular economy closer to consumers and companies. Through R-Create, we bring together the e-commerce market and couriers to use reusable transport packaging", adds Georgescu.
R-Create came up with a product and a platform through which promotes tertiary transport packaging can be reused. It is either a bag that you can reuse, whether you give it back to the courier.
"There is another very important dimension that R-Create impacts, the contamination of waste. At this time, unfortunately, the packaging that reaches the municipal flow is generally contaminated, which means that it can no longer be reused, and R-Create practically helps this flow through the packaging that can be reused", underlines Ionut Georgescu.
Through EcoTree, a B2B platform, waste generators, companies or citizens, will be able to get in direct contact with collectors on separate flows, and a big plus is that they solved all the administrative bureaucracy and managed to digitize the administrative part. "We believe that this part of digitalization through which the generator, the collector, and even the recycler come into direct contact will be able to change in the future the way in which we manage the waste we make," explains Ionut Georgescu.
Currently, there is a project at the Ministry of Environment regarding the guarantee system for primary packaging, in which to pay a guarantee when you take the product in primary packaging and receive it back when you return the product. "It is a system that makes us responsible, but in the end all these projects, all this digitization only make us move forward in the idea that we can create this circular economy. The circular economy, when you have 10-12 different types of actors in the packaging area, to put them all at one table, for one waste to become raw material for the other and to close the circle, without technology and without digitization it is not possible", concludes Ionut Georgescu.