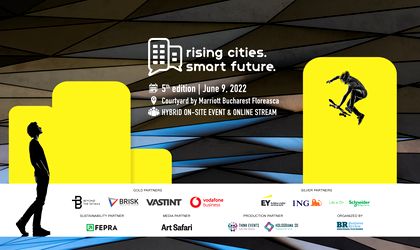 On 9 June, starting at 10:30, Business Review magazine will host its annual Rising Cities. Smart Future conference, now in its 5th edition, where entrepreneurs and top business representatives will meet face to face with Clotilde Armand, Mayor of Sector 1, Allen Coliban, Mayor of Brasov, Ramona Chiriac, Head of the European Commission Representation in Romania, Lara Tassan Zanin, Head of the European Investment Bank's Bucharest office, as well as members of civil society and the press, to discuss the investments and actions our country needs to modernise its cities and turn them into true Smart Cities.
The event will highlight the type of investments and actions needed to modernise Romania's cities, moving towards a clean, circular economy, stimulating the efficient use of resources in urban areas in the long term: sustainable green buildings; environmentally friendly technologies aimed at achieving zero pollution production and consumption and climate neutrality; efficient water consumption; initiatives by organisations, associations, NGOs to raise public awareness.
In the first part of the day, leaders of major companies from various industries will discuss the challenges and opportunities of creating a sustainable environment in modern communities. Antoniu Panait (Vastint Romania), Răzvan Pârvulescu (BTDConstruct & Ambient), Claudiu Bisnel (Brisk Group), and Lucian Enaru (Schneider Electric), moderated by Victor Iancu (KPMG Romania), will address topics such as:
Green and smart buildings as a complex combination of technologies and services that ensure energy efficiency, health security, improved life, health and well-being of citizens and employees.
Sustainable and efficient consumption of natural resources: smart technologies to protect the waste of water resources and to stop climate change.
Real commitment to investment in environmentally friendly technologies, with the aim of achieving zero-pollution production and consumption and becoming climate-neutral actors by reducing pollution and using 100% renewable green energy.
Green technologies for a better quality of life for citizens.
Smart energy systems: digital systems for sustainable and renewable energy, such as smart power plants using solar and wind energy, becoming part of a smart city ecosystem.
In the second panel of the day, Lara Tassan Zanin, Head of the European Investment Bank's Bucharest office, will sit face to face with two of the most important mayors of the moment, Allen Coliban (Brasov) and Clotilde Armand (Sector 1, Bucharest), as well as top professionals and public sector specialists representing major companies such as: Marius Motofei (Vodafone), Adrian Huma (ING Bank), and Michele Giove (Ernst & Young), moderated by Dan Borbely, Partner Țuca Zbârcea & Asociații.
At the end of this panel, Ramona Chiriac, Head of the European Commission Representation in Romania will give a keynote speech about the "New European Bauhaus," a creative and interdisciplinary initiative that connects the European Green Deal with our living spaces and experiences, supporting cities and citizens for sustainable local initiatives.
The last part of the event is dedicated to the actions of the most passionate "City Changers" aiming for a more beautiful and sustainable urban life. The panel will be moderated by Oana Vasiliu, Business Review journalist, and will bring together Ioana Ciocan (Art Safari Bucharest), Andrei Boțun (The Institute), Silvia Floares (Weekend Sessions), and Cristian Danciu (Charger.ro).
The Rising Cities. Smart Future 2022 conference, one of the most important Smart City events in Romania, will take place at the Courtyard by Marriott Bucharest Floreasca on June 9 and will also be streamed live online on YouTube, Facebook and LinkedIn, as well as on the Business-Review.eu website, starting at 10:30 AM. Registration for the physical event is free of charge, depending on your professional profile and subject to availability, and can be done by filling in the form on the conference page. Also, Art Safari, media partners of the event, are offering 50% discount vouchers on Art Safari Bucharest 2022 tickets for all physical audience members present in the hall!
The Rising Cities. Smart Future 2022 event is organized by Business Review magazine, the leading English-language business magazine in Romania, with the support of its partners: Vastint Romania, BTDConstruct & Ambient, Brisk Group, Vodafone Romania, EY Romania, Schneider Electric, ING Romania, FEPRA, Art Safari and Think Events | Holograma 3D.