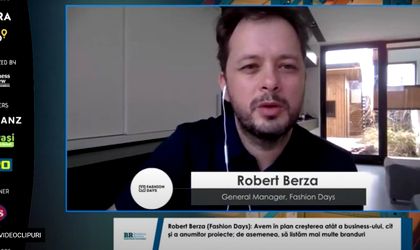 Fasrhion Days managed to increase the sales in 2020 by over 50 percent compared to 2019. The pandemic that forced people to stay indoor was good for online retailers, said Robert Berza, General Manager of Fashion Days at Re:Focus on eCommerce Retail & Logistics 2021 event, organized by Business Review.
"2020 was divided in three periods. First, from January to March, it was business-as-usual, with a 30 percent increase year-on-year. Then was the lockdown period, April-May and even June-July, when people started to increase consumption, and Fashion Days sales grew by 80% compared to 2019. And last, August-December, when we had an increase of 50% compared to the previous year, an increase that also moved to January this year, when the growth was close to 60%. Large increases, well above the average of previous years, due to new customers in the system," said Robert Berza.
"Between August and October, customers went more to malls, but with the second peak of the pandemic, November-January, they returned to online shopping. It was also the holiday and gift period, but it is clear that there are more customers in the market. Our estimates show that there are over 20% new customers online, in the fashion and sports area, and an increase in retention of over 20%," explained Berza.
"The growth of the online market will stay in place until August-September 2021, and then we will get closer to the levels before the pandemic, when fashion sales from total online sales were somewhere around 10%, then rose to 25% last year. We work with these scenarios, a share of 25-30% in 2021 of the total online," said Berza.
"Online conversions also grew and got closer to those in offline stores. Usually, in brick&mortar, conversions are between 10-15 percent, meaning the share of visitors that buy something, while online the rate is 3-5 percent. In the lockdown period we saw rates closer to those in offline store," said Fashion Days manager.
"Purchases of home or comfortable clothes have greatly increased, to the detriment of office or formal clothes. We have customers who have searched online for cheaper products, which you can find more easily offline, but we have compensated with newy suppliers who have come to cover this demand as well," said Berza.
The focus on digitalization has changed the whole spectrum of the market and many new suppliers decided to go online, forced by the situation. "Their online presence has increased competitiveness and the offer to customers."
"There are solutions for every problem. Yes, we do not have a good infrastructure in Romania, but we also have solutions. We are part of a group that understood this problem and came up with the Easy Box solution. If we waste time on a road to Iasi, for example, we gain it back by grouping parcels. We deliver Next Day in many big cities in Romania. In Bucharest, over 30% of orders are in Easy Box and the numbers are high in other big cities," said Robert Berza.
"For this year, in addition to the projected growth, we will see an increase in the number of brands in the portfolio, as well as the number of local designers. Then the logistics and delivery area will grow, including the Easy Box network, which customers will use more and more. Even the return of money for products is much faster if returned in Easy Box. Otherwise, this flow may take several days. But for fashion it is important that the return of the products is very easy," said Berza.
"We are also preparing a massive upgrade of the application, which now generates 70% of revenue for Fashion Days. And on the wave of digitalization we look at new brands from other areas to enter the Marketplace. 2021 is a year in which we need to strengthen our market position and secure our market leadership position," concludes Robert Berza.