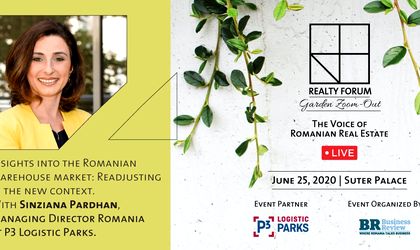 Sinziana Pardhan, Managing Director Romania at P3 Logistic Parks, will be one of the speakers at the upcoming Realty Forum 2020, BR's first offline & online event, streamed live on June 25, starting at 3 PM, from the Suter Palace in Bucharest.
Sinziana Pardhan is one of Romania's top professionals in the industrial real estate sector, and her insights into the market will be one of the main features at BR's Realty Forum 2020 | Garden Zoom-Out. With almost 3 years as P3 Logistic Parks' Managing Director, and formerly the company's Head of Acquisitions, Pardhan will share her key observations into the industrial real estate sector, logistics, retail and more.
"When our infrastructure will be more developed, we will see a reverse process towards consolidation into central warehouses, because it is more efficient to operate from a single central warehouse. We are still lagging behind in this regard, but we are just starting out, it will be interesting to see how thing will look in 5, 7 or 10 years from now." Said Sinziana Pardhan about Romania's prospects in the industrial real estate sector.