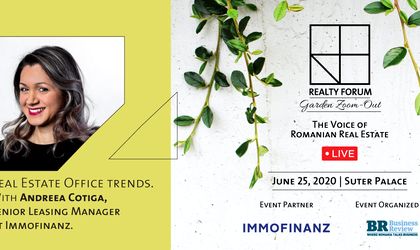 Andreea Cotiga, Senior Leasing Manager at IMMOFINANZ, will be a speaker at the upcoming Realty Forum 2020, BR's first offline & online event, streamed live on June 25, starting at 3 PM, from the Suter Palace in Bucharest, where some of the most influential players of the Romanian real estate sector will gather to discuss the latest trends and future forecasts of the industry.
"myhive is based on several pillars – starting with creating a community. We have a community manager and we focus on offering a good experience to our tenants. Another element is the design, inspired from lobbies of 5-star hotels," says Andreea Cotiga on myhive, Immofinanz's international office brand, which currently has 3 locations in Bucharest: Iride | twenty, in Northern Bucharest, S-Park, near the Herastrau Lake, and Metroffice, near the Aurel Vlaicu subway station.
Andreea Cotiga has been Immofinanz's Senior Leasing Manager since August 2017, having a previous experience of 16 years in the real estate sector.