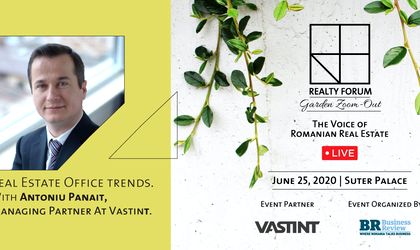 With only a few days left until the elite of the Romanian real estate industry gathers for the first time since exiting the lockdown for an outdoor Garden Zoom-Out at BR's Realty Forum 2020, you can tune in online and watch Antoniu Panait, Managing Partner at Vasting, talk about one of the hottest subjects of these days: the ups and downs of the office market in the past few months and the recovery forecasts as companies start returning at their workplace.
Antoniu Panait is one of the most seasoned professionals in the office real estate sector, being almost synonymous with his company, Vastint Romania, which he has led since its establishment, more than 11 years ago. Vastint Romania's flagship, the Timpuri Noi Square in Bucharest, is one of the most ambitious real estate project, not only in the office sector, but the entire industry, aiming no less than to reshape urban hotspot in the city centre. Another Vastint project, Business Garden Bucharest, which covers the Western part of Bucharest, features some of the most impressing technical facilities, that have led to an LEED Platinum certification with the highest score in Central and Eastern Europe.
Antoniu Panait has an executive experience of more than 11 years, mainly in real estate, and has been leading Vastint since 2009. With a strong foundation built on legal studies, embracing diverse operational responsibilities including administrating complex portfolios and evaluating investment opportunities, he took on the challenge to build and grow the Vastint team and projects in Romania at only 31 years old.