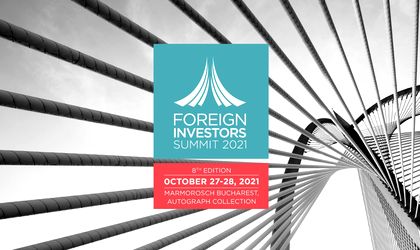 Last month Business Review hosted the 8th annual edition of the Foreign Investors Summit, where 20+ top speakers from across all the key industries explored the main elements on which Romania's competitiveness as an FDI destination will be decided in the near future. Read some of their key points and most insightful quotes and the conclusions drawn by Business Review Magazine's Editor-in-Chief, Anda Sebesi.
Keynote Speech: Romania's competitiveness in the medium and long-term | Bogdan Ion, Country Managing Partner, EY Romania & Moldova & COO EY South-East & Central Europe and Central Asia
Bogdan Ion, EY Romania & Moldova: Romania needs to compete more on quality and less on low costs. Raising labour productivity is also crucial, and this requires major improvements in the areas of education and healthcare.
Panel 1 | BOUNCING BACK FROM PANDEMIC: Have the FDI's become immune to Covid-19 over the second year of pandemic?
Cristian Secosan, Foreign Investment Council: The unprecedentedly high prices on the energy market are caused by the lack of investment in the sector and the country's inefficient production capacities. There are also factors that are out of Romania's control, but there are still plenty of internal issues that we ought to address.
Ramona Chiriac, European Commission: Romania's economic growth this year is estimated by the EU at 7.4 percent, outperforming other countries. For the growth to remain sustainable, it is important to ensure that it is supported by investments and reforms made through the Recovery and Resilience Plan.
Ileana Gutu,  EY Romania: Romania has a great capacity to absorb investments, and I would say it's extremely competitive in terms of its overall tax rate, at 20 percent of the total profit, which is far lower than the rates of the other countries in the region.
Cristian Ilie, InvestRomania: We need a proactive approach in promoting Romania as an investment destination and we need to establish what the country needs and what it can offer, and then promote it intensively in order to build a sustainable economy.
Lara Tassan Zanin, European Investment Bank: Romania must decide what it wants to look like in the future, what it can do to strengthen its economy, what types of investments it wants to attract in order to have a greener and more sustainable economy, and how it should try to obtain those investments.
Panel 2 | TECHNOLOGY AND DIGITALIZATION: Transition from adopting and services to innovating and production
Antoniu Panait, Vastint: There is a direct link between rent levels and market investment levels. If rents are low, then profit margins are also modest, which leads developers to cancel or postpone investments in new buildings.
Patricia Wruuck, European Investment Bank: We can see a difference in development among EU municipalities with large income gaps. This can be seen in housing conditions, but also in healthcare, and it can be addressed through investments.
Laura Stefan, Mastercard Romania: HoReCa Together is an educational platform that provided all kinds of information, from global education tools to local best practices, and taught entrepreneurs how to digitalize their business and make sure that they can get through this period.
Lucian Enaru, Schneider Electric: Over the past few years, we've seen significant investments in hospitals, especially in the private sector, which has been providing high-quality services. Recent investments have addressed critical aspects such as power availability and digital infrastructures.
Panel 3 | WORK: Behind the myth of young, bright, qualified Romanian workforce
Oswald Kolb, Continental Sibiu: Last year, many automotive factories closed, even in Germany and other developed countries. But with the help of state aid programmes, we've managed to keep our workforce intact.
Diana Buzoianu, Member of Parliament: A digital nomad is someone who wants to visit new and different places and still be able to work while they do so. We must change our legislation to implement the nomad visa, just as countries like Greece or Estonia have done.
Manuel Fernandez Amezaga, Sodexo BRS Romania: Trust, freedom of choice, and compensation are the most important things for the new generation of employees. They want to have flexibility and to be able to balance work with their personal lives. Employers can see an increase in employee productivity when these criteria are met.
Ana Visian, BestJobs: The young generation is digitally native and whatever they do, they look at it through a screen. Companies need to open up more entry level positions and internships for young people.
Loreda Dragomir, Adecco: Education is the key to the future and the solution for today's workforce-related problems. There are many private initiatives, vocational programmes, and even coaching programmes for school leaders, all of which can improve the education system.
Panel 4 | SUSTAINABLE ECONOMY: How sustainability can be an opportunity for foreign investors across industries in Romania
H.E Mrs. Laurence Auer, French Republic Ambassador: Romania is the best member state in the EU in terms of sustainable economic transformation because it has received the green light for all its mechanisms and policies. Financing is available through the PNRR and EU structural funds.
Jan Demeyere, Speedwell: We have our own internal procurement team. We take into account the sustainability of every material we use in our developments, and we also try to buy local products and develop projects with local teams.
Anna Cohen, Hagag Development Europe: Investors, municipalities, and governments should work towards making cities more sustainable. The real estate industry also has a crucial role in providing durable solutions and it should try to integrate as many green elements as possible.
Alex Skouras, Alesonor: We should be focusing on building communities, because the carbon footprint of traffic and of the materials used in construction is huge. All stakeholders – local authorities, governments, EU institutions, financial institutions – should work together and learn how to do things properly.
Tivadar Runtag, Chimcomplex: Whenever we talk about investors, they always want a good return at a relatively low risk. You cannot go wrong with sustainability; it might not provide the fastest returns, but it's definitely the best long-term investment.
Iulian Sorescu, Noerr: Romania offers some of the best conditions and incentives for investors, thanks to its low taxes and high yields, and projects that foster sustainability and green development will receive significant support through a variety of state aid schemes for many years to come.
Anda Sebesi: Taking a long-term view
Even though Romania was hit hard by covid-19, the local economy performed better than its European peers last year and is expected to also outperform them in 2021, with an estimated growth of around 7 percent. Naturally, foreign direct investment (FDI) levels, which had already been stalling for several years, hit a record low, but as the new normal took over, we saw a steep growth of FDI in the first five months of 2021, of 320 percent.
Romania's present situation is far from ideal: we are simultaneously dealing with the critical issue of high mortality rates due to covid-19, a political crisis, and record-high energy prices. But regardless of today's difficulties, we must still take a long-term view.
This is one of the most important conclusions of the 8th edition of Business Review's Foreign Investors Summit. One of the key questions is, how do we see ourselves competing as a country and what are the key drivers of growth? Should our growth model be primarily based on manufacturing or rather on
services? Romania seems to be expanding in both directions, just like Poland, which is a positive development. There are many things that still need to be done in Romania in order to achieve sustainability in all economic sectors, and this translates to a great number of opportunities for investors.
Economic sustainability could also be made possible by the funds available through the Recovery and Resilience Plan. But if we want to succeed, we must take a good look at the challenges and opportunities in front of us today.