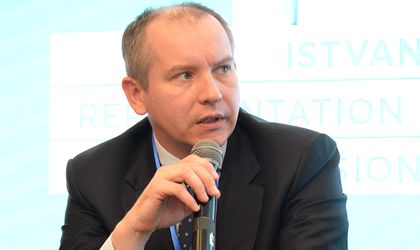 Romania has a relatively small and concentrated telecom market with few, but cash-rich players, but the country has now a developed telecom infrastructure, Serghei Bulgac, CEO of RCS&RDS, said at Business Review's Foreign Investors Summit.
"We represent one of the local champions, not the foreign investors, but we are glad to share our perspective on living and working in Romania," Bulgac told his audience.
The manager pointed out that Romania has changed a lot -during the last decade as its GDP has grown significantly and most economic sectors are much better developed than before the financial crisis.
"It's a pity that Romania has not been able to attract enough investments compared to Czech Republic, Poland or Hungary, the champions in the region," Bulgac said.
The top manager underlined the fact that the telecom sector is among the most dynamic and best developed sectors in Romania and Europe.
"Romania benefits from the best developed telecom infrastructure, the entire population included, ant internet speed is at top worldwide," Bulgac indicated.
"We have a relatively small and quite concentrated market with few players, but they are cash-rich," he added.
RCS&RDS is publicly traded since 2017 on the local stock exchange.
"Unfortunately, this has not proved profitable for our investors so far but we hope that the future will be better and brighter. The fact that our equity market is small and that the liquidity is low, these are still things we need to resolve," Serghei Bulgac argued.
The manager spoke about the operations conducted abroad by Digi Communications, RCS & RDS's  parent-company, in Hungary, Spain and Italy.
"We are one of the largest telecom operators locally but we've also expanded abroad, and not just recently. We first invested in Hungary in 1998 and then in Slovakia, Serbia, Croatia, the Czech Republic, Spain, and Italy. We have also sold some of our foreign subsidiaries," he indicated.
For RCS&RDS, Hungary is now its second core market, after Romania. The group invested EUR 2.5 billion during the past decade, mostly in Romania.
"Spain in an interesting example: we went there in 2008 with the simple idea that many Romanians lived and worked there and we could provide cheap alternative to let Romanians communicate with their families and friends back home," Bulgac said.
"It proved to be a very good investment as we became the no. 5 mobile operator on the Spanish market. That's an outstanding result, with around 50 percent growth in the past 3-4 years," he added.