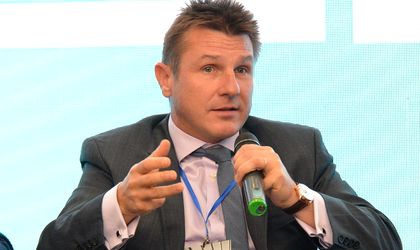 Investors need to see predictability in Romania instead of various experiments in public policy, said Serban Roman, the vice president of Enterprise Investors, during BR's Foreign Investors Summit. 
"The IT sector is one that keeps contributing to the Romanian economy, and it shows resilience even while other sectors may be slowing down. Automation and robotics are increasingly active and present on the market – we are pushing managers towards optimising and making their companies more efficient using technology."
As the discussion moved towards the Romanian IT industry's focus on outsourcing rather than product development, Serban Roman said that companies need to be careful not to go from an outsourcing trap into a product trap:
"Our experience has been different in Poland, for example, where we learned that companies could create value by staying in outsourcing, but moving from basic to more high-value products, for which they could charge more money. Working with companies that have access to customers in the US, for example, is another way to create higher value."
Serban Roman also added that IT entrepreneurs in Romania should start thinking more about mergers and acquisitions. "Bigger is safer and more profitable. There should be a platform for any entrepreneur who wants to grow exponentially and consolidate the market. We had such a project in Poland (Intive), where we helped the company identify, carry out and integrate acqusitions of outsourcing companies in several countries on two contients. Last year, Intive had revenues of EUR 80 million and we sold it for EUR 100 million. Another example is AVG, an antivirus product from the Czech Republic that opened an office in Silicon Valley after several years of hard work, and it was listed on the NYSE for USD 1 billion – one of our most successful projects."
In terms of the phenomenon of people leaving Romania to work in other countries, Roman pointed out that we should look at the real reasons for why they choose to leave.
"When I thought about leaving the country, it was not for another job – many of my friends left because of the lack of medical services, infrastructure, lack of balance and security in Romania. You can have a good salary in Romania, but if other elements are missing it's not enough to convince you to stay. It all comes down to predictability and long-term vision for any country.