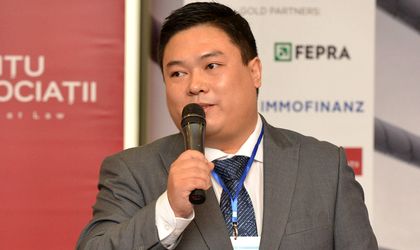 Huawei Romania was founded in 2003 and has grown to a company with 1,700 employees in our country, most of whom work at the service center, and it has created 5,000 indirect jobs, said Liu Kai, Vice President at Huawei Romania, at Business Review's Foreign Investors Summit. 
The Chinese technology company is now a global corporation. With 188,000 employees in 170 countries and regions, Huawei is a leading provider of IT&C infrastructure and devices. The brand reached position 12 among the top 50 global brands and is on the 61st position in Fortune 500 companies.
"As the world's fifth largest research and development we have a responsibility to conduct R&D for the generations to come," says Liu Kai.
The value of R&D investments in 2018 was USD 15 billion. The company owns 85,000 international patents, a number that makes it the producer with the most patents in Europe and a part of Top 50 patent holders in USA.
The smartphone business is just a part of Huawei's business, but it has reached the second place in the world as a phone maker and sells 200 million devices every year.
The next big thing for the telecommunication industry is 5G technology. Huawei is among the few producers of equipments for the 5G network after investing in the last 10 years to develop the technology.
"5G is a very hot topic, it's on everyone's minds, from industry specialists to consumers. It is a major step forward for the telecom sector but it's also related to other areas, including automated travelling, VR and AI," says Liu Kai. 
According to the VP of Huawei Romania, the company is ahead of competitors by 12 to 18 months and it has already implemented the technology in over 30 states in Europe and in over 60 countries worldwide. "We are already working on 6G technology," says Liu Kai.
As far as Romania is concerned, there are multiple benefits coming from 5G. Estimates show an economic growth of EUR 4.7 billion, adding 250,000 new jobs and attracting more foreign investors.
Huawei has 237 local partners and Romania can be at the forefront of 5G development as one of the main pillars of Huawei Europe. Also, Huawei Romania contributes with a total of EUR 230 million to the state budget as a leading IT&C supplier. 
"Romania today has second fastest broadband in Europe and fourth in the world with a very low price for internet services. This good connectivity is partly due to Huawei's technology, products and services in Romania," says Liu Kai.