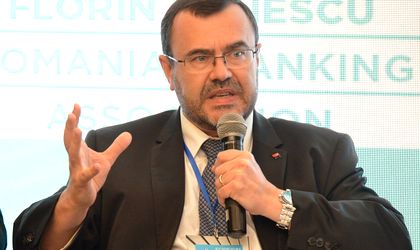 The Romanian banking sector is going through consolidation for several reasons, including problems in banks' home countries and the fact that banks need to be of a certain size in order to be able to survive on the market, according to François Bloch, the CEO of BRD, who spoke in the "Investments and Banking and Insurance Sectors" at Business Review's Foreign Investors Summit. 
"When we speak about consolidation, we ask ourselves why it is happening. Is it because Romania is not attractive? Not at all. The first reason is actually not related so much to Romania, mostly because foreign banks experience troubles in their home countries and have to exit markets like Romania as a result. Secondly, and this is true of many other industries, size matters: there is a critical size threshold under which it's extremely difficult to run long-term, sustainable banking activity.

Romania has over 30 banks, and this is still a big number for this market. I think there should be about 10 large, diversified banks, along with a few banks that are very specialised."
Bloch explained that banks need to build a strong infrastructure and have capital from investors in order to be able to operate efficiently.
"Banking is about infrastructure – when you operate a bank you need payment infrastructure, outlets throughout the country, access to ATMs, processing capacity, a fully controlled environment. All this infrastructure needs to be fed by a big number of businesses with a good profitability level.

Another important element for banks is getting capital from investors. Capital is a core asset for banking institutions, as it helps them not just grow their business, but also protect their customers. We saw that in the economic crisis in 2009, banks in Romania didn't need the state to inject capital and no depositors lost their money, and that was because there was enough capital available to protect them."
The BRD CEO added that the Romanian market is attractive in comparison with other European markets, especially those that are part of the Eurozone.
"Many banks operating in Romania have parent companies elsewhere in Europe, particularly in the Eurozone. Operating a bank in the Eurozone comes with challenges that we did not learn about at school – everything is upside down, with negative rates: every time someone deposits money into a Euro account, banks lose money, and they are affected by this as well as by the current economic slowdown in western Europe. Therefore, they are looking for growth opportunities in countries like Romania, which despite its various issues is overall a stable market, it is growing, has positive rates.

We are facing some difficulties on this market, but we have an overall positive view on the development of banks in Romania, as they are all investing to improve the quality of their products and services, especially through digitalization, which happens on two levels: one is the part that clients see, such as banking apps and other innovations, but also behind the scenes, making banks more efficient internally."
However, Bloch pointed out that banks' desire to be dynamic and evolve is sometimes in contradiction with their calls for stability and predictability.
"We have to explain what we mean by predictability – we're not fundamentally opposed to the idea that some things will change in the country, including taxes or legislation – but we also need to be able to understand in advance the future consequences of an investment decision we make today."