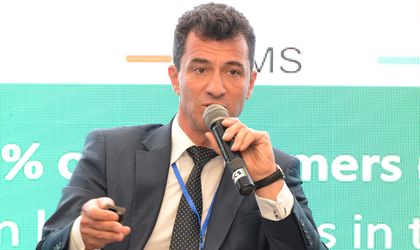 Romanian agriculture is still divided into small farms, which do not produce as much as a modern farms should produce. The value added in our country per hectare is only EUR 600, much less than the average in the European Union, said Florian Ciolacu, the Executive Director of the Romanian Farmers' Club for Performant Agriculture, at Business Review's Foreign Investors Summit.
As a speaker in the "Investments in the Agriculture Sector" panel of the Foreign Investors Summit, Ciolacu argued that the status of Romanian agriculture is far from what it should be considering the size of the farmed land.
"One third of the farmers in Europe can be found in Romania due to the fact that there are many small farms in our country. The situation can be seen also in the number of people working in agriculture, which is 5 times higher than it is in Europe," Florin Ciolacu.
The challenges in agriculture will grow in the future as the EU seeks to make changes. The EU is promoting dual performance in agriculture, which means that there will be no more agriculture without more environmental protection and no environmental strategy without economic benefits.
The current proposal from the EU looks for a shift from "compliance" to "performance" and a higher flexibility and responsibility for the member states. Which means that there will be strong political implications when there will be 27 national agricultural policies.
"The European proposal wants to simplify the management of the Commission services, but to increase the tasks for the member states without any simplification for farmers," says Ciolacu.
The level o subsidy in Romania is one of the lowest in EU anyway, and most of the subsidies go to old farmers. The situation is due to the fact that only 13 percent of Romanian farmers are young (below 40 years of age), 36 percent are middle aged (40 to 60 years) and the rest are older. This calls for changes in the structure of farms, which may need a reform that starts at the state level.
Furthermore, the production is unevenly distributed since one third of the producers are responsible for 75 percent of the total production. "Romanian agriculture needs reform, needs a plan that should be designed for several years," says Ciolacu, showing that there is a huge need for modernization.
It is also worth mentioning that the budget for subsidies will decrease in the EU. By 2022, Romania will have 2.7 percent less money that it has today. That means that farmers' income will decrease with an estimate of 14 percent.
"The challenges are coming from the globalization of the market in the next 10 years and Europe is not ready to tackle these challenges," says Florin Ciolacu.