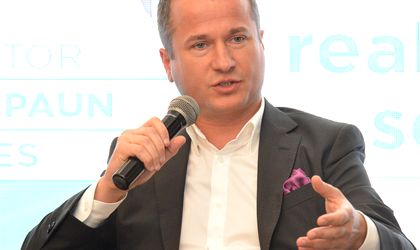 Antoniu Panait, the Managing Director of Vastint Romania, spoke in the "Investments in the real estate sector" panel at the sixth edition of the Foreign Investors Summit and said that tenants of office buildings in Romania have become very mature and they do thorough research on every detail of a building. 
"Tenants like to relate to somebody in the long term, especially when on the other side they have a partner, not just a landlord – that's what we've been trying to build in Romania and we have achieved it in Timpuri Noi, although we've faced many challenges which we overcame in time. Today the project is fully let, our tenants are happy and we always try to improve their experience.

The Romanian market learns very quickly from the experience of other markets, and tenants are much more mature and they ask for quality. They do very thorough research on every single projects, going into details such as ventilation systems or ceiling height.

Tenants will agree to pay more on rent as long as you offer them more services and better quality, because they believe these elements help their employees be happier and more productive. 
Asked whether Vastint aims to hold on to the projects it develops instead of selling them right away, Panait said that it always depends on the market context.
"We're keeping the projects in our portfolio right now, but that should not be considered a long-term decision – it's all about the market situation, and ultimately the price."

Speaking about how Romania compares to other countries, Panait said that the country has some very important advantages which will eventually attract many new investors.
"The discussion is not just about Romania, but about the EU as a whole – we no longer have borders with EU countries and that's why the labour force is moving around so much. But salaries and standards in Romania will grow, so people will be moving here from other countries.  Let's note that criminality in Romania is lower than in many other well-developed countries; furthermore, people here have amazing language skills.

Romania is about 7 years behind Poland, but the gap gets smaller and smaller. It's just a matter of time before new investors enter the Romanian market," Panait said.
The Vastint representative also talked about the fact that his company aims to adapt to the new trends on the office market and that businesses have started to take into account the needs of their employees more than they did before.
"We focus on trends, and we focus on people. For example, I've always said that the working from home wave won't last very long, as nobody really wants to work from home all the time, maybe just temporarily, because we want to socialise. Most young people are still living with their parents, and I don't think anybody wants to spend every with their parents and also have to work there.

A few years ago, general managers of companies who were living in the north of Bucharest decided that they wanted their offices to be nearby so they chose the Pipera area, and that's why that area developed so much. Nowaways, it is no longer just the decision of the general manager alone where to open an office – the HR department also weighs in with information about where most of the company's employees live, in order to make it easy for them to reach the office.