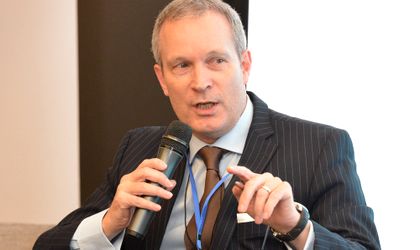 Romania is a resource-rich state from all aspects – people, countryside, oil, natural gas and more, said Stephen Birrell, President of ROPEPCA starting November 15th at Business Review's Foreign Investors Summit. But the economy is capital intensive and it needs lots of money. 
"Many people don't know this but Romania has the oldest oil industry in the world and has a very old gas industry as well," said Stephen Birrell. Unfortunately this doesn't mean that we have an efficient energy industry. The investment needed by producers and transporters of energy are very high and finding investors is not an easy job if the profits are not big enough.
"The key challenge now is fiscal stability. If I'm going to invest a dollar today and I'm not going to see any revenue for the next 10 years, I need to know what the taxes are going to be at that time. There are also many more challenges, but fundamentally you need fiscal stability," says Stephen Birrell.
One simple example is that the field discovered in the Black Sea in 2008 has still not been developed.
"From the stakeholder's perspective, at ROPEPCA we try to maintain a dialogue with the authorities. There will always be policy-driven strategies. We need to have a single voice to drive policy and investment to a stable market," says Birrell.
One of the most important things that Romania needs to do is to put the energy sources into an economic cluster so the energy produced can cover all the needs of the population and industry. "There's a big gap in what the consumer is willing to pay and the actual cost of the megawatt," says Birrell, explaining why some producers may not survive.
For example, nuclear power is carbon-free, but the investment needed in new units is too high to be viable. "There is a debate in the UK right now on the projects of two big nuclear power units. The investment was halted and it will see if it goes on or not due the the large investment needed, that is not covered by the price of the megawatt," explains Birrell.
On the other hand, gas-powered plants are producing carbon, so the capacity to capture and store carbon will be required in the future. But we need gas-powered electricity due to the fact that the sun doesn't shine all the time and the wind does not blow continuously, either.
Gas is recognized as a transition fuel, meant to keep up with the night consumption until the battery technology catches up with the demand. "Gas may never run out but we'll stop using it because it won't be commercially viable, it will be too expensive," says Birrell.