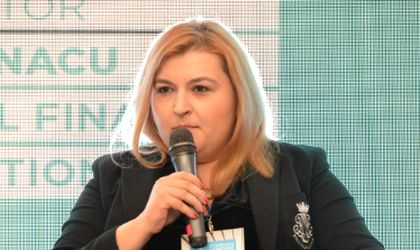 Romanian banks are afraid to invest in small companies and don't have the tools to help SME's become profitable as they are worried about the unpredictability of tax the legislation, which affects the credit market, Oana Motoi, Managing Partner at Cromwell Evan Global, said at Business Review's Foreign Investors Summit.
"The unpredictability of the tax legislation and other applicable legislation for the banking sector is one of the reasons banks had a very tough year. And this is applicable not only for banks, but for the whole market. Speaking about banks, such couldn't act on the regular course of business this year as they couldn't be sure what will be the next piece of legislation reaching their desks with direct impact on their business," she pointed out.
The managing partner at Cromwell spoke about the effects of unpredictability of tax legislation on businesses.
"I advised a start up to go to a Romanian bank that claims to invest and promote small companies for a  EUR 100,000 loan. The bank did not approve the loan even though such would have been guaranteed with a real estate property", Oana Motoi added.

"Banks are afraid to invest in small companies as they don't always have the tools to help such companies to run a profitable business" she added.
The expert underlined the importance of digitalization for the local startups that would like to have access to financing. "If they're not focused on digitalization, they don't have access to banks and neither to investment funds" she indicated. "We live in the days when almost only those start up's focused on artificial intelligence can have access to financing."
The managing partner of Cromwell made a parallel between the banking systems of Romania and the Republic of Moldova.
"Moldova is a looking more like an underdeveloped country, with a very underdeveloped banking system in terms of competition. That's why interest rates for financing in Moldova are much higher than in Romania. Which may lead to the conclusion that if it would be to compare the two countries, Romania definitely looks like a mature market, meaning pretty low interest rates that allow companies to go to banks and contract loans that allows them to grow their business – a great thing for the economy ultimately," Oana Motoi mentioned.
The Romanian banking market recovered after the financial crisis, even if the effects of the crisis were observed in the recent period. Banks from Greece or Cyprus for example made some risking investments back in those days and couldn't sustain themselves in their home countries and were forced to sell besides other countries, their Romanian subsidiaries during the last few years as well. But other banks grew stronger during the same period. "Banca Transilvania is one of the strongest now, in my personal view, it had organic growth and as an example, they were able to buy both Volksbank and Bancpost during the past recent years" Oana Motoi said.
"Right now, the market is doing pretty well. In the past year in Romania we've seen a lot of newly implemented systems, helping banks' becoming more efficient and at the same time respect all needed factors in such a regulated market. From the discussions with bankers and in my personal view, in the next 5-10 years banks that will be able to help their clients with very limited information would be those that will survive in this market. The new generation just want to press a button and see the outcome. They don't know and doesn't want to know what a guaranteed loan is. They just want their loan."