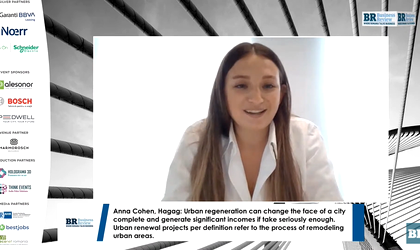 Present at BR's recent Foreign Investors Summit 2021 in the Sustainable Economy panel, Anna Cohen, Head of Marketing at Hagag Development Europe, talked about how sustainability can be an opportunity for investors in the real estate industry in Romania.
Asked about the approaches to sustainable development in Romania, but also at her company, Hagag Europe, Anna Cohen, emphasized the importance of urban regeneration projects and the impact they have on our lives.
"We are real estate investor and developer specialized in residential and Commercial projects in Bucharest, and a very significant part of our investment is concentrated in prime locations across Bucharest, mainly in the city center where we have and we are still developing several Urban Regeneration projects." Anna Cohen started het intervention with some background into Hagag Europe's activity and projects.
According to Anna Cohen, private investors and the public sector should work together towards creating truly sustainable cities. "As we see it, investors as well as municipalities and government not only can, but should play a key role in making a city sustainable. We now live in a world where most of the population lives in urban areas and the real estate industry has a crucial role in providing durable and long lasting solutions. We are putting all our best efforts into building as sustainable as possible. I would say that for us sustainability is mainly about responsibility and the potential that the real estate industry holds to help a city reach its best version." Anna Cohen explained.
When talking about Romania, and Bucharest specifically, we still have a long way to go in this direction, Anna Cohen believes, and a good starting point could be to protect, treasure, and restore our country's unique architectural heritage.
Another key aspect is of course the materials used in a new development. "Sustainable development can be achieved by using prime durable construction materials, which we do in our projects; and also by working with the designated teams, specialized specifically for certain construction phases which might be very delicate and unique and require a particular kind of attention. Of course, we are trying to bring in as many green elements as we can, in a way that will allow us to secure the lifespan of our assets, over a longer period of time and not just for the near future."
Hagag prime examples
"If we take our office building in Victoriei 109, a building which is more than 70 years old where we managed to transform an old and unused office space into a contemporary, open, bright office building with facilities that are similar to a Class A Office Building and is now BREEAM Excellent certified, which is a very important criteria in office development.
If we talk about Victoriei 139, which is a residential building that is over 80 years old that found in a very advanced stage of degradation when we bought it, and yet we managed to completely refurbish this beautiful building which can be admired by anyone who walks down Calea Victoriei. We appreciate the reaction that we are getting from the public for this kind of projects that we are engaged in. And this is exactly why we find this niche very important." Concluded Anna Cohen.