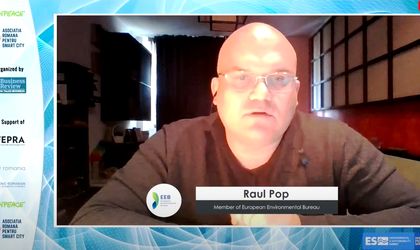 The new European Green Deal, a plan that it is not yet complete, has been adopted by many countries, including some reluctant ones, like Austria or Denmark. The fact that the plan has been declares a pivot for the post-COVID-19 economic recovery is the signal that we are moving in the right direction, as Raul Pop, Program Manager | ECOTECA Association – member of the European Environment Bureau (EEB) said at Business Review's recent Environmental & Sustainability Summit 2020.
EEB is a European network of offices in 36 countries, so it goes beyond Europe and is a discussion partner with the institutions in Brussels.
"There is a whole discussion about sustainable economic growth and our ability as a species to decouple economic growth from damaging the environment. Europe is pushing this goal, but there is still much to be done, concrete steps need to be taken. The transition from an academic area to one of real impact needs concrete measures, funding, etc. European money is absolutely necessary and an additional mobilizing factor compared to the strict awareness of the fact that we have a problem with our impact on the environment," says Raul Pop.
The European money will come from two direction. One is the multi-annual financial framework that we already know, the next one is for 2021-2027. The second direction is the green recovery fund, a financial instrument with a significant political weight for the countries. Weight that comes both from the sums needed by governments to make these investments and from the European Commission's extremely strong and rigorous message to the Member States.
"The recovery plan has several loopholes that need to be remedied. For example, there is no approach to pollution with toxic substances, which is a major threat to our health. Also, the loss of biodiversity through habitat destruction is not mentioned, although it is listed as the main causes for new types of diseases," says Raul Pop.
There are some specific points in the recovery plan that need to be addressed. For example, the renovation of old buildings, which are responsible for 36 percent of Europe's carbon dioxide emissions. "Most of the energy used in households and institutions is wasted due to poor insulation of buildings. Home heating is responsible for 45 percent of PM 2.5 particle pollution in Europe. The Commission is already saying that building renovation is a priority of the Green Pact and that a wave of renovations will follow, which will probably require more than EUR 250 billion a year and contribute to the modernization of old buildings," says Raul Pop.
"The plans are generous, but there is no proposal to create a dedicated financial instrument. It would have been much clearer and easier to implement if we had such a financial instrument," says Pop, stating also that there should be a main strategy for zero pollution heating. A strategy that in addition to the environmental impact will create hundreds of thousands of jobs for renovating homes, schools, hospitals of office buildings.
The renovation should include modern technological solutions, like solar energy and heat pumps. The cost of the solar panels has dropped dramatically and installing them on the roofs generates many jobs.
"In regard to the circular economy, we must start from the fact that the European Union, like other economically developed areas, consumes more than a fair share of natural resources. At the current level of consumption we need three planets to support it. The consumption of materials per capita in the EU is 14 tons per year. The rate of use of circular materials, those that return to consumption, is about 11% and has not changed at all in the last 5 years. Better waste management can also generate hundreds of thousands of new jobs, according to the European Commission, a sector that currently employs around 1.2 million people and we have room for growth," says Raul Pop.