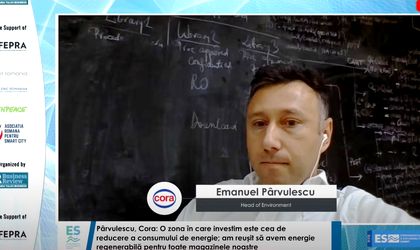 Everybody, either a person or a company, must make any effort possible to pollute less and to reduce its carbon footprint. This a goal everyone should have, as Emanuel Parvulescu, Head of Environment at Cora said at Business Review's recent Environmental & Sustainability Summit 2020.
"One of the problems we face in waste management is that we don't know if our recycled waste ends up being really recycled since we don't know what happens at the other end of the recycle chain," says Emanuel Parvulescu.
The pandemic changed the plans Cora had for this year. "We wanted to sell more unpackaged fruits and vegetables, but, for health safety reasons, many goods must be packaged. We tried to do good on one side, that of health safety, but we ended up using more plastic," says Cora representative.
Just like many other companies, Cora tried to reduce consumption and invest in green resources.
"In addition to investments made in reforestation we make every year, we wanted to use green energy. So, in the last two years, we managed to buy energy from renewable sources. The less pleasant part is that we don't always manage to buy green energy, for reasons that we cannot control," says Emanuel Parvulescu.
The retailer also managed to create a system for the purchase of fruits and vegetables from the local producers.
"A large part of the fruits and vegetables we sell are from local producers. Of course, some of these goods are not fit for selling, so we send a good part to various NGOs, which redirect them to people in need. And some go to compost production. It is important to create a system that helps local producers, but we must be very careful with the waste we generate from this sector," says Emanuel Parvulescu.
The waste management industry must keep in touch with the authorities. But, as Cora representative shows, every time the private actors gather to talk about different aspects of waste management, they find that one of the biggest problems is the lack of legislation predictability. "The Holy Grail of the industry is to have the authorities on our side, it is the only way to have truly sustainable results," says Parvulescu.
As far as selective collection from the population is concerned, Cora's Head of Environment thinks that an advertising campaign from the authorities, like those that says 'Consume Less Sugar', would help a lot. But that should come together with the creation of a collection infrastructure around the country, since what we have today is not nearly enough.